Indonesia prepares for "war!" The glorious time of the "peace dividend" following the 2005 Aceh conflict settlement seems to be over (Honna 2008). The "enemy" has succeeded in weakening the country's political, economic and social structure with continuous terrorist threats, youth radicalization, the resurgence of communists, and by foreign companies extracting Indonesia's natural resources. These are taking place in real time, and taken together offer a pertinent picture of contemporary Indonesia — at least, according to the military establishment. Given this, the military has set out on an ambitious twin agenda to defend the country and protect its territorial integrity.
On the one hand, there is weaponry modernization; the long-held goal to boost defence capability which gained speed in the period of Susilo Bambang Yudhoyono's presidency, from 2004 to 2014. Minimum Essential Force (MEF), the blueprint urging relevant stakeholders to work together towards a stronger and modern Indonesian military, was prepared to provide guidelines. This was a panacea for national stakeholders and international suppliers since it would revitalize strategic industries and international cooperation. The underlying gist of MEF makes the main issue plain. In recent years much apparatus had endured long operational periods and numerous personnel had died or suffered injury due to military-related accidents (Pandjaitan 2015). Yet alongside this was a political motive as Yudhoyono offered a generous budget in the hope of solidifying military support. All this took place at a time of growing awareness of regional instability and increasing power rivalries which led to worries that Indonesia could be sidelined in the region.
On the other hand, there was a move to promote the "bela negara" agenda ("defend the state"). Orchestrated by duumvirate Defence Minister Ryamizard Ryacudu and Indonesian National Armed Forces (Tentara Nasional Indonesia, TNI) Commander General Gatot Nurmantyo, bela negara aimed to stoke patriotism among the people. Spearheading this project, the defence ministry ran classes on Pancasila 1, these targeted diverse civilian groups and drilled them in national history and politics, and conducted military-style outdoor training sessions. All this took place under the guise of total defence obscuring the mass-mobilizing politics that was happening, and thus triggering public sentiment, both positive and negative.
This article discusses these rather separate agendas and explores how they may conflict.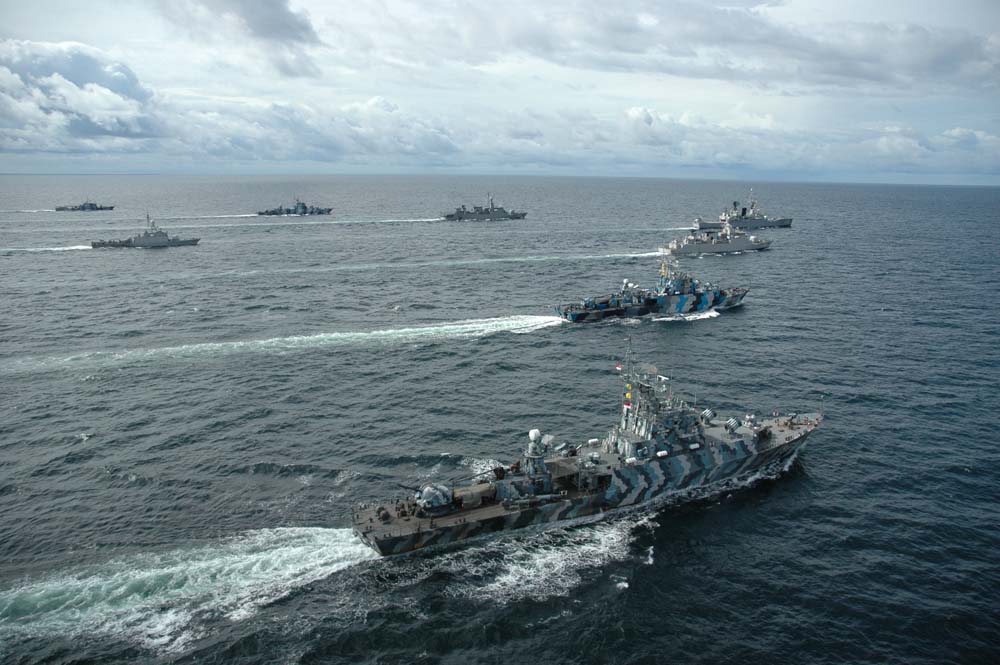 Striving for modernization
As the country faced imminent and potential threats, Indonesia has striven to rejuvenate its defence capability and national strategic industry. Relentless efforts in modernizing its military could be taken as playing catch up with its growing profile as one of the rising powers in Asia Pacific. Being committed to an "independent and active" foreign policy, the nation's long-standing internationalist doctrine —one of not taking sides and instead maintaining beneficial cooperation— has played out while Indonesia's state apparatus, the defence ministry and armed forces, have been trying to source cutting-edge military technology from top weapons producers. Furthermore, in 2012 the government introduced the Law on Defence Industry (Law no. 16, Year 2012), a law that many expected to give rise to positive changes in the conduct of defence procurement. One of its important mandates is to establish an inter-departmental committee, the Committee of Defence Industry Policy (Komite Kebijakan Industri Pertahanan, KKIP), under the auspices of the president. The law specifies KKIP's role as "a committee representing the government to coordinate the national policy of defence industry planning, implementation, monitoring and synchronization". It is responsible to ensure that proper transfer of technology for national industries will accompany foreign procurement, and seek for ways toward joint-production in defence with designated weapon-producing countries.
The Defence Ministry has also conducted an organizational restructure, a move deemed vital in the face of future turbulence in the region and possible global escalation. Changes made included establishing an intelligence division and local Ministry branches throughout Indonesia. Efforts to bolster the defence posture were pursued through preparing a joint regional military command (komando gabungan wilayah pertahanan, kogabwilhan), beefing-up the navy and air force, and strengthening partnerships with multiple regional players.
The militarization of Natuna islands, located in Indonesia's northwest border area, well illustrates this attitude. The government stationed armaments to counteract potential territorial infringement and the Military has promised to monitor the area (Moeldoko 2014). Without explicitly naming the threats (so not to create unproductive diplomatic tension) Indonesia framed the militarization as part of a multi-year national plan to strengthen national borders. It is believed that the government is playing out a hedging strategy to do what it can to secure the country's political sovereignty and territorial integrity, including proactively strengthening and establishing new defence cooperation with great powers and neighbour countries (Gindarsah 2015).
Traditional alliance
In essence, "bela negara" ("defend the state") is neither new nor a breakthrough concept, yet the act of taking it mainstream is a novel move. From elementary school, every Indonesian is generally versed in Pancasila and about its relevance for Indonesian society. Nonetheless, in the current fashion, bela negara is primarily —at least normatively— repackaged to strengthen people's loyalty and the public's appreciation of state ideology in accordance with the military's line of interpretation.
The Defence ministry holds a pivotal role in coordinating the dissemination of bela negara ideology. They have engaged various parties —ranging from state offices, the private sector, universities, and local social organizations— in class sessions, which includes not only lectures but also physical exercise partially inspired by military training. The participants would be given military-style uniforms, and be asked to chant patriotic songs while doing physical exercise, for instance. Quite ambitiously, the ministry has declared to recruit over one hundred million cadres of bela negara in the next ten years (Utama 2015).
On the subject of the proxy war, as expounded by Defence Minister Ryamizard Ryacudu and TNI Commander General Gatot Nurmantyo in their lectures to university students and at their speeches at formal state occasions, the current state of  "Indonesia at war" is uber critical. There is no better antidote to defend the country from fourth-generation warfare, or as religiously coined by the military establishment, a proxy war, than to load beloved citizens of the republic with patriotism. The military is desperately looking for help from their devoted, militant, and trustful alliance: "the enlightened masses," since the "enemy" cannot easily be identified nor defeated. This invisible, omnipresent enemy would attack Indonesia on different fronts and is ready to launch deadly assaults by various methods, such as the infiltration of communism and liberalism ideologies upon the young generation, international NGOs campaigns against government development projects, and systematic efforts to ban Indonesian exports commodities, and so forth.
Mass mobilising politics is high on the agenda of the Indonesian government. Ryamizard and his compatriot General Gatot are very serious about this extravagant nation-building project. Both believe new readings of Pancasila and the fully committed bela negara cadre are powerful weapons to protect Indonesia. However, one scholar interestingly argued that a proxy wars narrative should be seen as a desperate effort by the army for safeguarding their place within the current Joko "Jokowi" Widodo administration's priority in developing the country as "global maritime fulcrum" (Marzuki 2016).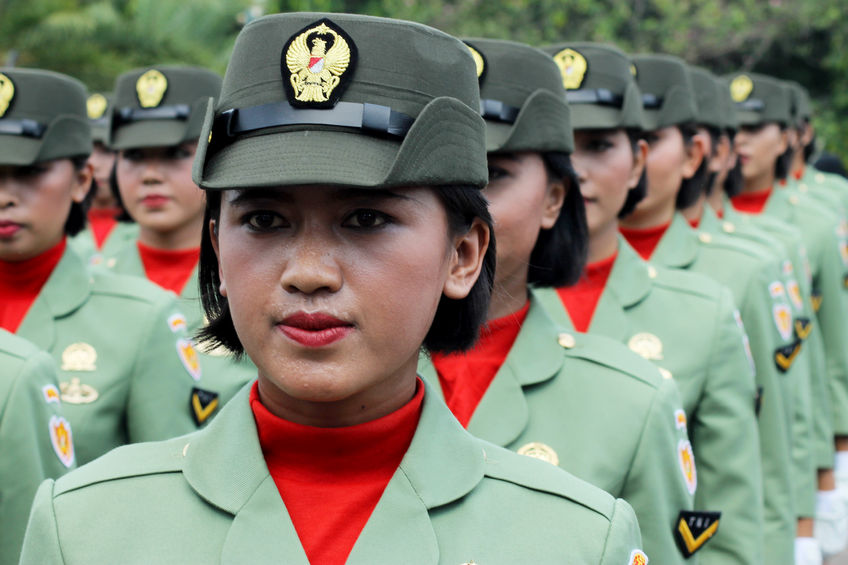 Defend the people
The politics of mass mobilizing has complicated the prospect of the on-going MEF project as bela negara will absorb some proportion of the budget allocated for defence needs. This discrepancy is worrying because Indonesia's fiscal envelope is already burdened with huge state subsidies, not to mention inefficiencies and corruption that have obstructed policy implementation. The Defence Ministry stated the budget allocated is Rp45 billion (US$3,1 million) for 2015-2016 (Firmanto 2015). The parliament's Commission1 whose members deal with defence, intelligence, and foreign affairs, raised questions over budgetary issues and the legality of bela negara. But these were met with a standard rebuttal from the defence ministry. Yet putting budgetary issues aside, it is important to consider the sustainability of mass-mobilizing politics as well.
Although bela negara training has caught the public's sentiment, along with it is a worrying effect on the nation's geist: the climate of social diversity and religious tolerance in the country. In addition to being an instrument to combat foreign infiltration, radicalism, communism and so forth, mass mobilising politics has apparently been deployed to aggressively undermine the lesbian, gay, bisexual, and transgender movement (Ras 2016). Moreover, perceived deviant-heretic religious communities are becoming targets of bela negara teachings as well (ibid). Minorities are considered to threaten public order and social harmony given their different views on religious matters and other issues.
Indonesia needs to look at the broader consequences of mass mobilization and the effects on its international profile. Other countries in the region might understand how nation-building can be inherently beneficial. Patriotism, in the broader sense, is a powerful mantra to achieve various objectives, not to mention boosting the morale of soldiers and the general citizens. However, the current proliferation of new patriotism in Indonesia is the result of the nation's anxiety and "deep insecurities" in realizing the contradiction between worthwhile appraisal from abroad and the multiple problems people face at home, e.g. social inequality, poverty, and rampant corruption (Aspinall 2015). Therefore, mass mobilizing politics offers a stark picture; one of national self-proclamation and narcissism, rather than an expression of self-confidence and genuine celebration of people's power. Recruiting more cadres of bela negara would also imply rather the medieval aspiration Indonesia has for its future, and one could not help but wonder how this project could bring any good for the nation and the region in the long term. Is Indonesia gearing up for hostilities?
Indonesian military has a long history of political intervention in public life. While some scholars have rightfully expressed doubt that any sign of an authoritarian-turn is visible in today's Indonesia (see, e.g. Laksmana 2015), concerns about mass mobilizing politics orchestrated by the military should not ignored. This current development suggest that democratization that has not been accompanied with any substantial reform over the country's military institution could possibly turn the the clock back to a repressive era.
We should never forget that the history of military involvement in Indonesian politics is, indeed, marked in red – with bloodshed, too.
Muhamad Haripin
Muhamad Haripin is pursuing PhD degree at Graduate School of International Relations, Ritsumeikan University, Kyoto.
He is a researcher with the Center for Political Studies – Indonesian Institute of Sciences (P2P-LIPI), Jakarta.
Tweets @mharipin
YAV, Issue 20, Kyoto Review of Southeast Asia. October 2016 
References
Aspinall, Edward. 2015. "The New Nationalism in Indonesia." Asia & the Pacific Policy Studies3 (1): 72-82. http://onlinelibrary.wiley.com/doi/10.1002/app5.111/epdf (pdf)
Firmanto, Danang. 2015. "Bela Negara Habiskan Anggaran Rp 45 Miliar." TEMPO.co, October 22. https://m.tempo.co/read/news/2015/10/22/078711900/bela-negara-habiskan-anggaran-rp-45-miliar (accessed on 2 June 2016)
Gindarsah, Iis. 2015. "Indonesia's Defence Diplomacy: Harnessing the Hedging Strategy Against Regional Uncertainties." RSIS Working Paper no. 293 (June 9). https://www.rsis.edu.sg/wp-content/uploads/2015/06/WP293.pdf (pdf) (accessed on 5 October 2015)
Honna, Jun. 2008. "The peace dividend." Inside Indonesia 92 (April-July). http://www.insideindonesia.org/the-peace-dividend (accessed on 15 January 2016)
Laksmana, Evan A. 2015. "Indonesia's Modernizing Military. Suharto's New Order is Old News." Foreign Affairs, September 3. https://www.foreignaffairs.com/articles/indonesia/2015-09-03/indonesias-modernizing-military (accessed on 5 October 2015)
Marzuki, Keoni. 2016. "Proxy Wars Narrative: TNI-AD's Quest for Relevance?" RSIS Commentary no. 092 (April 21). https://www.rsis.edu.sg/wp-content/uploads/2016/04/CO16092.pdf (pdf) (accessed on 12 July 2016)
Moeldoko. 2014. "China's Dismaying New Claims in the South China Sea." The Wall Street Journal, April 24. http://www.wsj.com/articles/SB10001424052702304279904579515692835172248 (accessed on 8 March 2016)
Pandjaitan, Luhut B. 2015. "TNI Menuju 70 Tahun Kedua." Harian KOMPAS, October 8. http://nasional.kompas.com/read/2015/10/08/15000001/TNI.Menuju.70.Tahun.Kedua?page=all (accessed on 23 July 2016)
Ras, Abdul Rivai. 2016. "Memerangi Gafatar & LGBT Melalui Bela Negara." RakyatSulsel.com, February 29. http://rakyatsulsel.com/memerangi-gafatar-lgbt-melalui-bela-negara.html (accessed on 14 February 2016)
Utama, Abraham. 2015. "Ryamizard Targetkan 100 Juta Warga Jadi Kader Bela Negara." CNN Indonesia, October 12. http://www.cnnindonesia.com/nasional/20151012105651-20-84362/ryamizard-targetkan-100-juta-warga-jadi-kader-bela-negara/ (accessed on 22 July 2016)
Notes:
Pancasila is Indonesia's five sacrosanct principles: believe in the one and only God; just and civilised humanity; the unity of Indonesia; democracy led by the wisdom of deliberation; social justice. ↩