This October, the OTOP Nawatwithi project began to fully operate, as the latest avatar of the now famous OTOP policy initiated in 2001 by then-Prime Minister Thaksin Shinawatra. Conceived as a poverty alleviation scheme, a SME promotion measure and local development plan altogether, OTOP became one of the most well-known, if not one of the most popular program of the Thaksinomics, and has stood the test of time despite the more-than-a-decade-long chaotic state of Thai politics. After having summarized OTOP history, this piece will draw on data from my recent fieldwork to analyze OTOP Nawatwithi, and see what this new version of the One-Product concept can tell us about the political situation in Thailand.
The One Tambon One Product
OTOP stands for One Tambon One Product. This policy, inspired by the Japanese One Village One Product (OVOP) movement born in Oita Prefecture, Kyushu island, was identified as a priority by Thaksin Shinawatra after his election, in 2001. Launched with great pomp the same year, it started by listing products that were chosen as the most representative of each village, theoretically by the villagers themselves. The first OTOP fairs that would become a trademark of the scheme, and, for some of its critics, a hollow shell marking its failure, were organized. In 2003, the OTOP Product Champion (OPC) campaign was launched, which has become the showcase of the entire program as it is oriented toward product excellency and international exportation. All OTOP producers submit their products every two years to OPC selection committees composed of officials, academics and representatives of industry and business, who grade the products from one to five stars. The OPC label is applied to products with three or more stars. The OPC ranking determines which ministry is in charge of the product, and, therefore, the nature and extent of the support it receives. In the past decade, OTOP has been alternatively criticized and promoted by the central government, and rumors of a possible termination of the policy have emerged amidst ideas to radically alter its core philosophy and implementation.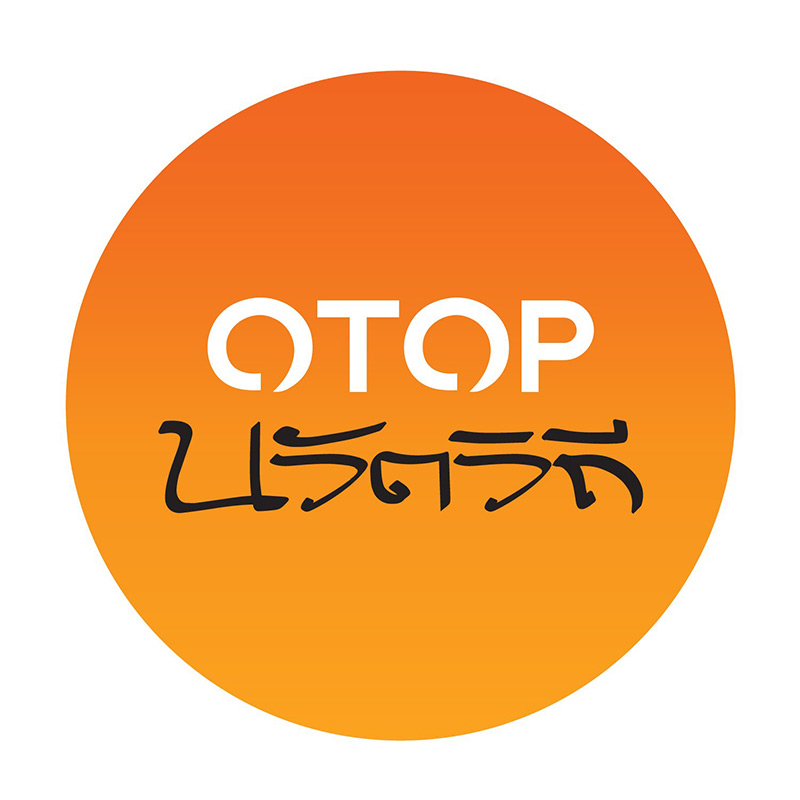 The official complete name of OTOP Nawatwithi can be translated as OTOP Nawatwithi Community Travel Project, with nawatwithi meaning "innovative life". Its presented goal is therefore to use the OTOP brand to develop tourism in rural and lesser-known areas. Three to five villages or communities are selected in each district (amphoe) of the country, for a total of 3600 localities in the 878 districts of Thailand, a number that is expected to grow in the future. Each of those villages or communities therefore becomes a travel destination, organizing guided tours for visitors to discover its particularities, among those being 10 OTOP products. Those products can be long-established OTOP commodities, traditional merchandise that were not previously labelled as OTOP, or even completely new goods invented for the occasion.
The emphasis of OTOP Nawatwithi on local tourism is not a completely new approach to OTOP. In 2004-2005, the OTOP Tourism Village project was launched and it evolved from 2006 into OTOP Village Champion (OVC). With OVC, OTOP products have been used to promote rural tourism by association with local landscapes, customs or landmarks in a move that officials explicitly link to an attempt to make the OTOP more closely reflect the original Japanese OVOP movement. However, there is a striking contrast between the OVC and OTOP Nawatwithi projects, which reflects the diverging ideology of their respective proponents. Where OVC was relying on large-scale environmental improvement and pre-existing outstanding OTOP production, OTOP Nawatwithi requires much less investment from the government and seems to favor non-OTOP production.
Promotional video from OTOP Nawatwithi on YouTube
Fresh Air for a Stagnant Policy?
OTOP Nawatwithi's focus on soft infrastructure development such as training, PR and organizational support indicates the junta's preference for less interventionist economic policies, as opposed with Thaksinism, which never hesitated to initiate large public spending. The issue of how OTOP Nawatwithi relates with long-established OTOP production is more complex. In the four communities I visited for my fieldwork in Bang Lamung district, Chonburi province, 38 out of 40  products received the OTOP label in the past year in order to be featured in the OTOP Nawatwithi project. Some of the pre-existing OTOP products did not make it on the OTOP Nawatwithi lists, either because they were not selected, or because their owners were not interested in the new program. Compared with previous tourism-related OTOP projects, OTOP Nawatwithi seems to be less committed to building on established OTOP production and rather aims as inject some fresh air in a policy that has been stagnant for the last decade. OTOP Nawatwithi can be also seen as a method to increase the number of OTOP products and producers, which has been one of the favorite indicators of the Thai administration over the years to boast of their policy's success.
Concerning the administrative structure of OTOP Nawatwithi, besides the traditional control of the Community Department Development, the Ministry of Interior, another agency is playing an important role. The Designated Areas for Sustainable Tourism Administration (DASTA), created in 2003, supervised the training of local guides and program leaders in 3 of the 4 communities I surveyed in Bang Lamung, and is still active in organizing study trips for OTOP Nawatwithi local committee members. While the Ministry of Tourism and Sports had a role in the OTOP Tourism Village and OVC projects, DASTA is a public organization accounting directly to the Prime Minister Office.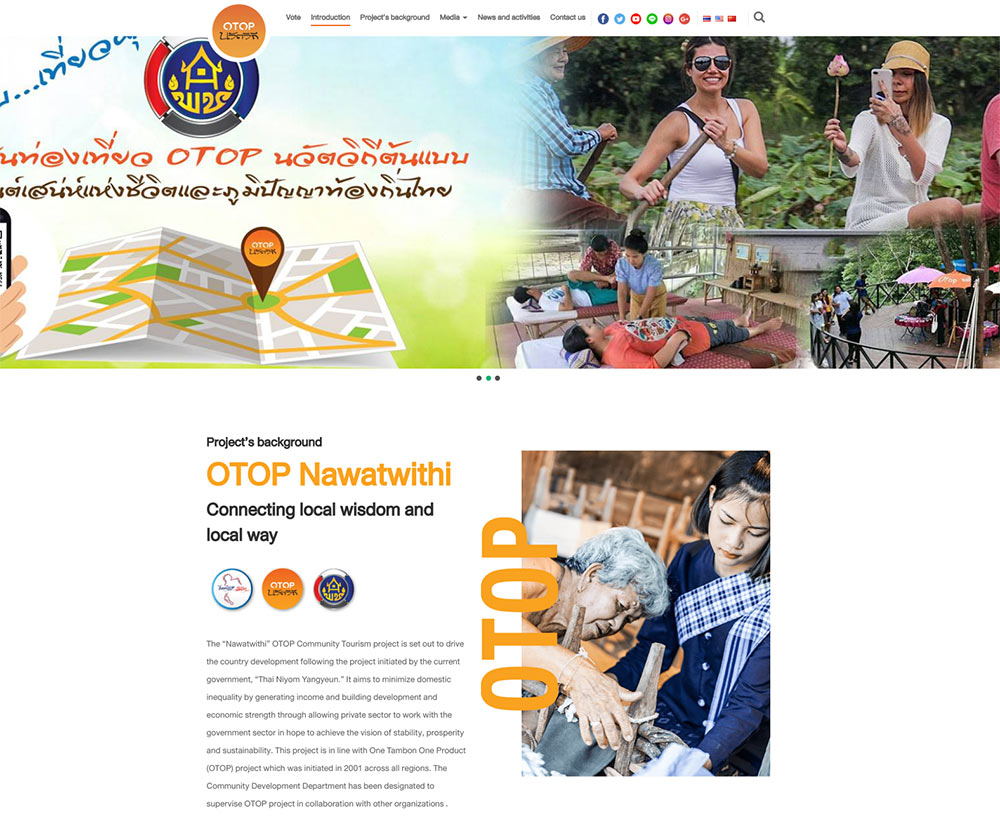 The Future Holds the Same Challenges
The only objective reason to consider that OTOP Nawatwithi can be more successful than the previous attempts to encourage sustainable local development via OTOP-based tourism has nothing to do with the policy itself. The Thai middle class is larger than a decade ago, and foreign tourists from all regions of the world are pouring into the Kingdom in higher numbers every year. Those are supposed to become the main customers of OTOP Nawatwithi, and might help the new scheme to last longer than its predecessors. However, I have observed during my fieldwork that the challenges are unchanged: insufficient and unsustainable support from the government, poor engagement of the communities, political corruption and power games still hinder OTOP development like any public policy in Thailand. The recent election might breath new life into the political landscape, and the junta would surely not turn its back on the few votes a brand-new OTOP might bring in.
Valentin Noble
Division of Southeast Asian Studies, Program on Society and Development, of Kyoto University.
Recipient of the Japanese Government (Monbukagakusho) Scholarship.
Kyoto Review of Southeast Asia, Trendsetters, March 2019
References
Kaewmanotham, M. (2008). Thai ni okeru OTOP project to jizoku kanou na hatten (OTOP Project and Sustainable Development in Thailand). Journal of the Faculty of International Studies, Utsunomiya University, 26, pp.63-71.
Noble, V. (2018). Mobilities of the One-Product policy from Japan to Thailand: a critical policy study of OVOP and OTOP. Territory, Politics, Governance.