Since the opposition Party Islam Se Malaysia (PAS, Islamic Party of Malaysia) took over the state government in Kelantan in 1990, it has deemed as un-Islamic and banned public performances of traditional theater such as wayang kulit (shadow puppet) and makyong (a form of Malay theatre), as well as rock concerts. For orthodox Muslims, traditional theater forms are haram (forbidden) because they are performed for spiritual occasions, including healing. Spirits are believed to be invoked during these performances and non-Islamic stories (like the Indian epics Ramayana and Mahabharata) are used. Worse still, Pak Dogol, the clown of the wayang Kelantan, not only acts as a servant to Seri Rama, the hero of the puppet theater, but is himself a Hindu demigod. Women have also been banned from taking part in all concerts and live entertainment shows in Kelantan since 2002 because the female voice is considered aurat, a part of the body which must be covered (Star, 19 September 2002).
The media has chosen to focus on the actions of these conservative Muslims. Nevertheless, as in other parts of the Muslim world, there are diverse types of Muslims who embrace different interpretations of Islamic practices and culture (Hefner 1997: 6-7). Over the last two decades, there has been a growing middle class of Islamic modernists in Malaysia who accept the challenge of modernity but with a difference. As Gole (2002) suggests, these Muslims are projecting a culture that is modern and yet Islamic. For them, music plays an important role not only in spreading the word of Islam but also in showing that Islam is a religion which can adapt to the modern world.
This paper examines the development of pop nasyid, a type of Islamic popular music which engages performers and audiences in a dialogue about Islamic modernity in Malaysia. Pop nasyid appeals to younger Muslims by projecting a non-western Malaysian modernity even as it adapts global trends in popular music and uses new technology, media, and marketing strategies. The musicians also identify with a global Islamic movement through musical texts, musical elements, video imagery, and costumes. At the same time, they recreate modern local interpretations of Islam and include local Malaysian musical elements in their songs.
 The Development of Nasyid in Malaysia
The term nasyid originates from the word ansyada meaning "cantillation of poetry." It is believed that when The Prophet Muhammad first went from Mecca to Medina, he was greeted by the people of Medina with a nasyid song Tola'al Badru'Alaina (Finally the moon has risen amidst us, audio clip at www.rabbani.com.my, multimedia section). Today, nasyid refers to a type of Islamic devotional song with texts praising Allah or incorporating other religious themes, such as universal love, good morals, or brotherhood in Islam. 1
In Malaysia, nasyid was first performed informally by Islamic teachers and students as interludes during Qur'an reading sessions prior to World War II. Nasyid songs played important roles in propagating the teachings of Islam and The Prophet Muhammad. They also encouraged Islamic morals and practice. The songs were sung a capella or accompanied by frame drums such as the rebana or kompang. The Arabic language, which was used initially, was gradually replaced by Malay. In the 1950s and 1960s, nasyid was encouraged at schools and performed at Qu'ran reading competitions organized by the Religious Department at the state and national level. Nasyid singers performing at these competitions had to abide by strict rules: Groups were comprised of men or women only – no mixed groups allowed. Women had to tutup aurat (cover body parts), men had to wear the songkok or kopiah to cover their heads, and all performers stood still with their hands clasped or at their sides as they sang. Only the Arabic and Malay languages and no instruments except the frame drum were allowed. At this time, nasyid was also performed at religious celebrations such as Awwal Muharram and Aidil Fitri (Matusky and Tan 2004: 263-264).
Islamic Resurgence and the Development of
Nasyid Era Baru
In the 1970s, Islamic resurgence or revivalism (known as the dakwah movement) began in Malaysia. Dakwah means "to call" or "to respond to the call" and missionary work was one of the main objectives of the movement. Analysts summarize the reasons for Islamic revivalism as responses to the state's western-oriented development policies, the rise of a new Malay middle class concerned about social imbalance, and the deepening of ethnic consciousness, particularly between Chinese and Malays (Shamsul 1997). 2 Iranian revolution, the growth of Middle Eastern economic power, and disenchantment in the Muslim world with secular nationalism also contributed to Islamic resurgence in Malaysia. Students who studied overseas, including in the Middle East, returned to Malaysia with new Islamic ideals.
Dakwah organizations emerged which differed in objectives but shared an overriding concern to revitalize Islam. These organizations encouraged stronger commitment to the teachings of the Qur'an and the Hadith (sayings of The Prophet Muhammad) in order to bring about a more Islamic way of life. 3
Malaysia's Islamic resurgence was largely urban and middle class-based. Local university students were especially ardent dakwah followers. As in other parts of the Muslim world, new forms of "Islamic visibility" emerged in public life, such as the veil (hijab) worn by Muslim women, locally known as the tudung or mini-telekung, 4and Islamic books, magazines, and cassettes (Gole 2002). A well-educated Muslim middle class started to debate about such modern concerns as the eradication of poverty, the merits of market economies, women's roles in society, pluralism, and social imbalance. They were influenced by the ideas of an earlier generation of Muslim reformers who tried to reinterpret and make Islam more responsive to the demands of the modern world (Hefner 1997: 5). 5

In the meantime, nasyid became a medium for dakwah. In the 1980s, dakwah groups such as Darul Arqam popularized nasyid through live concerts by affiliated musical groups Nada Murni and The Zikr. These groups, which modernized nasyid by incorporating the use of percussion instruments, were non-commercial; they performed live at Darul Arqam's cultural shows and distributed their own cassettes for further distribution to their followers (Ahmad Fauzi 2005: 17, n46).
Nasyid was also promoted by the national government as Islam became an important component of culture policy. 6 Contests were organized at schools and universities and performances were nationally televised. The participants sang Malay texts praising Allah, giving advice to followers to serve Allah and abide by the Qur'an, and emphasizing national development through Islam (Tan 1990: 143). Nasyid thus also became a means to promote Islam along moderate lines. As in the 1950s and 1960s, mixed gender groups, body movements, and modern instruments were not permitted.
In the 1990s, a project to create a nasyid era baru (new era nasyid) was commissioned by the Islamic Affairs Department of the Prime Minister's Department. This was in keeping with the new narrative of modernity, Wawasan 2020 (Vision 2020), formulated by then Prime Minister of Malaysia Dr. Mahathir Mohamed (Mahathir 1991). According to Vision 2020, Malaysia's path to modernization should be guided by spiritual, religious, and moral consciousness. Islam was to play an essential role in realizing this vision.
The concept of nasyid era baru was actualized in a live television performance at the national nasyid competition in 1994. The performance was repeated at the closing night of the 1995 Qur'an Reading competition. Local lecturers from University Teknologi Mara (UiTM) and foreign consultants from Egypt worked on the project. The nasyid era baru was a total performance incorporating nasyid song, dance, theater, poetry, and chants including the use of costumes and props. According to Fakhariah bt. Datuk Hj. Lokman, an UiTM lecturer involved in producing and composing nasyid for the performance, "the use of new media as well as digital lighting and sound systems and the use of contemporary forms of art showed Islam as dynamic and capable of adaptation and assimilation in order to survive the conditions of the modern world. The new form is universal, conveys Islamic ideals, promotes the understanding of Islam as a world-view and creates unity among all of the world's nations" (personal communication, 5 February 2005).
The opening song, Ahlan (Welcome), composed by Prof. Dr. Abdel-Hamid Mash'aal of Egypt, was meant to demonstrate that Islam transcends age, race, and gender. Sung in Arabic, Malay, English, Mandarin, and Tamil, the word "welcome" was highlighted in the different languages (Ahlan / Selamat Datang/ Welcome/ Huan Ying/ Vanekem), and performers representing different races were dressed in different national costumes. Women sang side by side with men publicly for the first time.
Other songs focused on modern concerns and social problems (such as drugs, AIDS, and war) and urged Muslims who had gone astray to return to their faith and Islamic ideals (performance booklet, 11 January 1995). The Cry of Bosnia, also composed by Prof. Dr. Abdel-Hamid Mash'aal, was an anti-war nasyid sung in English, Arabic, and Malay:
With the gushing blood of the Muslims in the land of Bosnia and Herzegovina…Condolence to the world of Islam…With the tears of the weeping mothers (who have lost their sons)…With the blood of the raped virgin…With the cry of the infant babies…The painful sighing of the old in shock…With the destruction of mosques…Condolence to the world of Islam…
The performance ended with Wawasan 2020, composed by Fakhariah Lokman, which was sung in English. Again, characters of all ages and races, including women, came together to sing about the goals of Vision 2020:
A united Malaysian nation with a sense of common and shared destiny…a psychologically liberated, secure and developed Malaysian society…a mature and democratic society…a fully moral and ethical society…a mature, liberal and tolerant society…a scientific and progressive society…a fully caring society and caring culture…an economically just society…and a prosperous society.
Newspaper critics praised the performance of nasyid era baru as "modern and entertaining" as the new songs had "musical instruments to back up nasyid singers, an oud [Middle Eastern lute] performer singing a beautiful Arabic song… [and]…pop singers such as Fauziah Latiff, Sharifah Aini and Ning Baizura clad in fashionable Islamic clothes" (New Straits Times [NST], 12 February 1994). Others wrote that the music was an effective way to propagate Islam (Utusan Malaysia, 13 January 1995).
 The Making of Pop Nasyid: Global, Islamic, and Local
Taking the cue from Darul Arqam's Nada Murni and nasyid era baru, a new commercial form of nasyid known as pop nasyid emerged in Malaysia in the 1990s. Maintaining lyrics praising Allah and extolling Islamic values and the teachings of The Prophet, commercial pop nasyid songs were sung a capella (in two or three part harmony) or with instrumental accompaniment. They were produced and distributed to mass audiences by recording companies. The new genre adapted various types of Anglo-American pop music (such as the music of boy bands Westlife and Backstreet Boys), while incorporating world beat and local rhythms. Percussion instruments from Malaysia and other parts of the world were also employed.
The pioneer of commercial pop nasyid is the group Raihan (Scent of Heaven). According to Farihin Abdul Fattah, the producer of Raihan's first album Puji-Pujian (Praises, 1997, audio clips at www.raihan.com.my, songs/lyrics), the record company Warner decided to "enhance nasyid music" by adding percussion to the singing to project a new sound. Farihin explained that the American percussionist Steve Hassan Thornton, who arranges percussion and plays for other Malay world music and pop musicians, "handled the Latin ones while I played more of the Nusantara percussions" (NST, 17 March, 19 July 1997).
Following Raihan (Warner), other nasyid pop groups have emerged in Malaysia. Prominent groups include Hijjaz (Hijjaz Records, formerly BMG), Rabbani (KRU Music-EMI), Brothers (Ambang Klasik), and In-Team (Hijjaz Records). Female groups include HAWA (Juara Records), Solehah (Polygram), and Mawaddah (Mawaddah Productions). Schoolchildren are even setting up their own groups (Star, 1 August 1997), and other pop singers such as Waheeda, Mawi, and Ramli Sarip have jumped on the bandwagon.
As the next section illustrates, pop nasyid is popular among younger Muslims as it is modern, Islamic, and yet Malaysian. The new form of dakwah music also provides a forum for Muslim performers and audiences to debate about non-western modernity.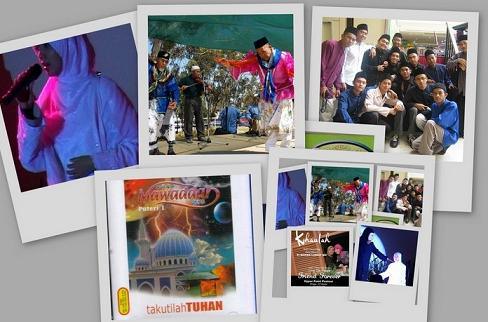 Global Pop Trends
Pop nasyid has appropriated and is constantly adapting to modern global trends in popular music. As in Anglo-American boy band music, the overall musical structure of pop nasyid comprises alternations between the solo voice, chorus, and short instrumental sections. Chorus sections are sung in two- or three-part harmony. Groups such as Devotees, Firdaus, and Mestica are experimenting respectively with hip-hop, rock, and world beat musical forms and rhythms. Foreign musical instruments, such as conga drums, cowbell, shakers, keyboard or synthesizer, are mixed with local frame and barrel-shaped drums. Live performances are held at concert halls with the latest digital sound and lighting systems.
Pop nasyid is commercialized and packaged for distribution through record companies including transnational subsidiaries of Warner, EMI, and BMG, and it is sold in the form of CDs, video CDs (VCDs), and cassettes. Marketing strategies of the transnational companies include live performance, video clips, websites, fan magazines, autograph-signing sessions, posters, T-shirts, and other paraphernalia. As a result of such promotion, Raihan's first album Puji-Pujian (1997) sold more than 650,000 copies, making it the biggest selling record in Malaysia at that time (NST, 24 March 2000). In 2000, Raihan released its first movie, Syukur 21 (Thanks 21), which was another effective way of marketing their nasyid songs and dakwah messages.
Pop nasyid video clips also follow global world music video formats in juxtaposing color and black and white sections. The most dominant form of nasyid music video shows singers lip-syncing in continually changing scenes, including mountains, rivers, and deserts – all Allah's creations – as well as Muslims praying in mosques. As in other types of global pop, the music videos appear regularly on national television, and the VCDs are easily available for private consumption and karaoke singing in the home.
Following global pop trends, new technology such as computers and the internet are employed for production and marketing. Most popular nasyid groups have their own websites; fans log in to listen to and download their favorite songs and lyrics, chat with other fans, look at photos and video clips of the singers, and read about the lives of the group's members (see, for instance, www.raihan.com.my, www.rabbani.com.my, www.hijjaz.com.my and www.mawaddah.com.my). Nasyid e-zones, portals, web logs, discussion forums, and other sites are also available (examples include www.nasyeed.com.my and www.liriknasyid.com). 7 Nasyid tunes can even be downloaded as ring tones for mobile phones. Sarkissian (2005: 145) has correctly pointed out that "the internet has become an important tool, not only for the dissemination of nasyid, but also for the creation of a sense of community between groups and their fans."
Modern Global Islam
Besides adapting global pop trends, nasyid singers and audiences identify with modern Muslims worldwide through the universal Islamic themes projected in the song lyrics, as well as the use of Arabic terms and Middle Eastern musical modes and of vocal timbres in the singing style. Video images of Muslims praying at mosques in different parts of the world and scenes of Muslims performing their pilgrimage at Mecca are also used as backdrops. Many male singers wear a global form of Islamic shirt or baju Melayu (Malay long shirt) over pants and kopiah (skull caps) in pastel or dark colors. More recently, groups such as Dirwana, Nowseeheart, and In-Team have been featured in casual everyday shirts or polo necks and western-style jackets.
Regulations pertaining to women's participation and dress code also imply identification with Muslims throughout the world. Female groups exist but they are a minority. Unlike in nasyid era baru, there are no mixed groups. Women performers cover their heads as do other young women in many parts of the Muslim world in order to participate in public life. However, they are covering up in colorful long shirts or baju kurung (Malay long dress) and tying their headscarves in creative and fashionable ways. As Gole (2002: 177, 180) has pointed out, the veil or headscarf is "claimed by a new generation of women…as a cultural symbol of distinction in a non-western context of modernity." In the Muslim context, women's participation in performance and the wearing of the telekung is considered modern. Although there are restrictions on women's participation, nasyid provides Muslim women new ways of expressing themselves in public.
To show concern for their Muslim brothers and sisters in other parts of the world, nasyid groups such as Raihan, Rabbani, Brothers, Saujana, Hijjaz, and Nowseeheart recorded an album to raise funds for the Kosovo refugees in 1999. Similarly, part of the proceeds of Rabbani's album Aman (Peace) went to Afghan refugees (NST, 16 November 2001), and the all-girl group Mawaddah has composed songs about the tsunami disaster in Aceh (see www.mawaddah.com.my).
The new pop nasyid acknowledges that Muslims of diverse nationalities and non-Muslims can live in harmony. As in the nasyid era baru, pop nasyid is rendered in different languages, such as Malay, Arabic, Mandarin, and Urdu, to appeal to audiences of different nationalities and races. Raihan's album Syukur (Thanks, 1997) includes the voice of Yusuf Islam (formerly Cat Stevens) and some songs are performed in English. Sung by Yusuf Islam and Raihan, Yusuf Islam's English-language composition God is Light is accompanied by the Malay kompang and rebana and other percussion instruments. The texts praise Allah:
How great the wonder of the heavens…And the timeless beauty of the night…How great then how great the creator…And its star like priceless jewels far beyond the reach of kings…
Raihan's 2003 album, Gema Alam (Echoes of the World), includes a song in Mandarin, Cing Ai Cing Ai (Love for God). The singers were inspired to compose a Mandarin song because "Raihan had followers among the Muslim community in the southern part of China. Apparently, they like the music even though they don't understand Malay words" (Star, 5 February 2003). Raihan's latest hit, Allahu (My Allah), is sung in Urdu and Malay. It is an adaptation of a qawalli (devotional music of the Sufis of India and Pakistan) song by singer Nusrat Fateh Ali Khan praising the Almighty (Star, 11 June 2004).
Nasyid singers are creating solidarities with Muslims in Southeast Asia and other parts of the world through collaboration and performance in various Muslim communities. Raihan has recorded with Yusuf Islam, performed with the Indonesian pop group Sheila on 7 and the Indonesian nasyid group Snada, and has been invited to perform in Kuwait and other Middle East countries, South Africa, England, Thailand, Indonesia, Singapore, and Canada; Mawaddah has toured Germany, France, England, and Australia (NST, 6 November 2004). Malaysian groups like Raihan and Rabbani and Indonesian groups like Snada and Haddad Alwi are popular in both countries and their CDs and VCDs are available in both places (Barendregt 2003). All these developments testify to the making of a global Muslim community.
Local Identity
Pop nasyid groups have tried to project local Malaysian identity in their songs too. Raihan's Puji-Pujian features Malay frame drums such as the kompang and rebana, which are traditionally used to accompany some Islamic genres of music. The drums interlock around the basic masri rhythm which accompanies social dancing in Malaysia and which is similar to a rhythm used in beledi dancing in the Middle East. In addition to imagery of Islam in the international context, many of Raihan's video clips portray local scenery such as the modern skyscrapers of Kuala Lumpur and mosques in Malaysian towns.
Rabbani has also been experimenting with new sounds and has incorporated traditional Malay folk songs such as Lagu Ulik Mayang (Song from the Ulik Mayang theatre) and Wau Bulan (Moon Kite) into its repertoire (www.utusan.com.my, 29 February 2000). In the album Intifada (Uprising, EMI 2001), Rabbani invited composers such as Bong (producer of Amuk), Pak Ngah (famous for traditional music), and KRU (pop rappers) to contribute to the album. This resulted in a mixture of pop, traditional, and world music. The lyrics of the title song revolve around Rabbani's rise in the music scene and how the group has achieved its current status. The tempo of the album is more upbeat than that of other pop nasyid, and it ends with segments played by the Malay gamelan, serunai, and drums. Rabbani's album MTV Qiblat (2004) has incorporated the Malay social dance rhythm inang and the pop genre dangdut. Instruments such as the Indian tabla have been combined with the Malay kompang, rebana, and conga drums.
Malaysian nasyid singers articulate various narratives of Islamic modernity. Local interpretations emerge when the universal message of Islam interacts with national discourses of development and modernization. The message of Vision 2020 and the creation of a modern technological nation with its own spiritual and cultural identity is portrayed in Metrowealth Movies' 1.8 million ringgit film Syukur 21. The film is set in the 21st century in the fictional high-tech township of Raudah, which has its own housing and recreational areas, shopping malls, academic institutions, and government offices. (It is no coincidence that the film is set in 2021, one year after Malaysia is supposed to have achieved its Vision 2020, and was filmed in the new modern administrative capital Putrajaya.) Raudah is technologically advanced and the city is maintained by sophisticated computerized technology. Kamal, a Malaysian engineer who has been working with NASA in New York for thirty years, is sent to Raudah on an exchange program. Disaster erupts when a group of locals led by Azmi try to sabotage Kamal's efforts; the result is storms, floods, and death. All ends well when Azmi's group repents, asks for Kamal's forgiveness, and calls on Allah for help. Raihan's message is clearly stated in the final song:
O God I don't deserve your love…forgive me and accept my repentance…you are most merciful…we are your servants…forgiveness from God…No matter how high one strives for science, he will never be greater than God…Laws of science are laws of Allah…
Metrowealth Movie executive director Mohd. Aliff Najmi says that "in the movie, we are living in a modern world which has not compromised on humanity and love" (NST, 24 March 2000, see also www.movies.mwig.com).
More recently, Mawaddah released an album entitled Islam Hadhari (Civilizational Islam) in tandem with the introduction of ten principles of the same name by current Prime Minister Abdullah Ahmad Badawi. Islam Hadhari's ten principles "aimed at empowering Malaysian Muslims to compete globally" and include "faith and piety in Allah, a just and trustworthy government, a free and independent people, mastery of knowledge, balanced and comprehensive economic development, a good quality of life, protection of the rights of minority groups and women, cultural and moral integrity, safeguarding the environment and strong defences" (Star, 24 September 2004). Mawaddah's album features songs such as Masyarakat Harmoni (Harmonious Society), Malaysia Indah (Beautiful Malaysia), and Islam Yang Telah Kembang (Islam Which Has Flourished). The title song calls on younger Muslims to create a new culture of tolerance, cooperation with others, faith in God, and hard work (see lyrics at www.mawaddah.com.my).
 Artistic Tensions
As a commercial yet Islamic form, the new nasyid embodies various tensions that are the subject of lively debate in the press, on websites, and in fan magazines. While critics are against the commercialization of Islamic dakwah music, performers find it permissible so long as the message of Islam is projected. Raihan says that "success has humbled us even more. We always remind ourselves that success is only a temporary phase" (Star, 11 June 2004).
Performers and critics also disagree on the form pop nasyid should take (Malay Mail, 6 April 2004). Rabbani has been criticized for "going off track and veering away from the nasyid norm." For some, Rabbani's Intifada "sounds too pop to deliver the message of Islam" (Star, 9 April 2001). Other musicians say that different forms of music can be used so long as the message is conveyed. For groups such as Rabbani, "making nasyid more commercial and universal will help them realise their dream of spreading the message of Islam" (NST, 13 January 2001).
In addition, tensions arise when conservative elements argue that women singing in public is not acceptable because the female voice is aurat. Mawaddah's producer, Dzulkifli Abdul Razak, disagrees, saying that "as long as it [female singing]…doesn't cause fans to be obsessed with the singer or otherwise lead them astray, then it is acceptable." He further clarifies that each Mawaddah singer has to "practice an Islamic lifestyle… They are taught not to seek fame, but to be devoted to spreading the message of Islam." Mawaddah's manager, Murshidah Mustapha, explains that the Mawaddah girls, led by 18-year old Khaulah Ashaari, daughter of former Darul Arqam leader Ashaari Muhamad, have "discarded the face-covering veil and dark clothing characteristic of Darul Arqam women earlier…The old attire is no longer appropriate…we want to portray Islam as a beautiful religion, and an attractive appearance is very important. However, we make sure that our singers don't wear tight or revealing clothes" (NST, 6 November, 2004, see www.mawaddah.com.my, gallery, for photos of Mawaddah costumes).
Whether live music concerts should be allowed continues to be debated in orthodox Muslim circles, where many feel that pop music may cause people to forget their religious duties. In the state of Kelantan, where traditional and rock performances have been banned, the PAS government seems to be softening its stand on popular music concerts to win back support lost to the ruling party UMNO in the 2004 general elections. Despite disagreement among the performers, a live concert featuring Fantasia pop idol Asmaawi Ani (popularly known as Mawi), veteran singer M. Nasir, the nasyid group Rabbani, and former rocker turned dakwah singer Akil Hayy was held as the grand finale of the 1 October 2005 celebrations declaring Kelantan an Islamic city. However, the concert was held on the strict condition that there not be too much dancing or body movement, that there be no female performers, that only songs with Islamic content be performed, and that male and female audiences be segregated (Sunday Star, 18 September 2005).
Through this survey, I have tried to show that nasyid has been pluralized and globalized in the past two decades. Pop nasyid appeals to a younger generation of Muslims eager to reconcile its religious beliefs with the appeal of modernity and pop music. It is playing an important role in the creation of the modern Muslim and engages Muslims in lively exchanges about Islamic modernity in Malaysia. Musicians are trying to project a moderate and modern Islam through pop nasyid while political parties such as PAS use it to gain legitimacy among young voters and to show non-Muslims that the party is not as rigid and outdated as its critics insist.
Tan Sooi Beng
Professor in the Department of Music
School of Arts, Universiti Sains Malaysia
References
Ahmad Fauzi Abdul Hamid. 2005. "Contestations and Peace Building between the State and Autonomous Islam in Malaysia." Paper presented at the Regional Workshop, "Peace Building in Multi-Ethnic, Multi-Religious Southeast Asia," School of Social Sciences, Universiti Sains Malaysia, in collaboration with The Ford Foundation, Jakarta, 29 April-1 May 2005, City Bayview Hotel, Penang.
Al Faruqi, Lois Ibsen Lamya. 1985. "Music, Musicians and Muslim Law." Asian Music 17(1): 2-36.
Barendregt, Bart. 2003. "Nasyid in the Making: Transnational Soundscapes for Muslim Southeast Asia." Paper presented at the KITLV International Workshop on Southeast-East Asian Studies, South-East Asian Pop Music in a Comparative Perspective, 8-12 December 2003, Leiden.
Barendregt, Bart, and Wim van Zanten. 2002. "Popular Music in Indonesia; Mass-mediated Fusion, Indie and Islamic Music since 1998." Yearbook for Traditional Music 34: 67-113.
Gole, Nilufer. 2002. "Islam in Public: New Visibilities and New Imaginaries." Public Culture 14(1): 173-190.
Hefner, Robert. W. 1997. "Islam in an Era of Nation-States: Politics and Religious Renewal in Muslim Southeast Asia." In Islam in an Era of Nation-States: Politics and Religious Renewal in Muslim Southeast Asia, ed. Robert W. Hefner and Patricia Horvatich, 3-42. Honolulu: University of Hawaii Press.
Kahn, Joel. 2003. "Islam, Modernity, and the Popular in Malaysia." In Virginia Hooker and Noraini Othman, ed., Islam, Society and Politics. Singapore: Institute of Southeast Asian Studies.
KKBS (Kementerian Kebudayaan, Belia dan Sukan Malaysia or Ministry of Culture, Youth and Sports Malaysia). 1973. Asas Kebudayaan Kebangsaan [Basis of National Culture]. Kuala Lumpur.
Mahathir Mohamad. 1991. Malaysia: The Way Forward. Vision 2020. Kuala Lumpur: Centre for Economic Research and Services, Malaysian Business Council.
Matusky, Patricia, and Tan Sooi Beng. 2004. The Music of Malaysia: The Classical, Folk and Syncretic Traditions. Aldershot: Ashgate Press.
Performance Booklet. 1995. Special Performance Presentation (Closing Night), An Islamic Performance, Mashaaliman Concept, With the Cooperation of Institut Teknologi Mara, 11 January, PWTC, Kuala Lumpur.
Roff, William. 1967. The Origins of Malay Nationalism. Kuala Lumpur: University of Malaya Press.
Sarkissian, Margaret. 2005. "Religion Never Had It So Good: Contemporary Nasyid and the Growth of Islamic Popular Music in Malaysia." Yearbook for Traditional Music 37: 124-152.
Shamsul A. B. 1997. "Identity Construction, Nation Formation, and Islamic Revivalism in Malaysia." In Islam in an Era of Nation-States: Politics and Religious Renewal in Muslim Southeast Asia, ed. Robert W. Hefner and Patricia Horvatich, 207-231. Honolulu: University of Hawaii Press.
Tan Sooi Beng. 1990. "The Performing Arts in Malaysia: State and Society," Asian Music, 21 (1): 137-171.
Websites (last accessed 26 January 2014)
 www.hijjaz.com.my, www.mawaddah,com.my,  www.nasyeed.com.my, www.liriknasyid.com