The more recent Indonesian migrants to the Philippines are collectively called Maroris by the natives of Davao. They are called Maroris because in coming to southern Mindanao, a lot of them went by way of Marori Island, the northernmost island of the Sangihe Island chain in Indonesia. Marori was designated as the exit point for Indonesians from the Sangihe Islands, with the point of entry at Balut, Sarangani. This was part of the border agreement signed between the Philippines and Indonesia in 1965 to document the Indonesians who were coming to the   Philippines. 1 There appeared to be other entry points. Those from Talaud and Miangas headed for Tibanban, Davao Oriental, while those from Indonesian Borneo left from Sampulna for Zamboanga. 2
From the point of view of the Sangils 3 of Sangihe Islands, the Philippines is not merely a neighboring country. Many of them have relatives in southern MIndanao, and it has become customary to visit one another. They have been coming in and out (mosulod ug mogawas) of the Philippines even without documents. 4 While a lot of the migrant Indonesians appreciate the registration requirement as a sort of protection for them, many slip into the country without bothering to go though the legal process, a practice that goes back to ancient times.  Indeed in the past, the Sangihe Islands had very close political links with southern Mindanao, particularly with the Buayan Sultanate, a matter still remembered by ancient Sangil families in Davao del Sur.
This paper is divided into five sections. The first section discusses a brief profile of selected Indonesian migrants; the second section discusses the reasons for the migration and the methods of coming here; the third section discusses the experiences of the migrants in their stay in southern Mindanao; the fourth section presents some personal accounts of the migrants, and the fifth section discusses some Sangil legends.

For the purpose of this paper, a total of thirty-five informants were interviewed. 5 All of them, except for one informant, were Indonesians or had Indonesian blood. The lone informant who was not Indonesian nor had Indonesian blood is Rosa de Arce vda de Parsaso. She was nonetheless included as she had a step-mother who was an Indonesian. 6  These informants came from Davao Oriental, Davao del Norte, Davao City, Sarangani Province, and South Cotabato.
Of the informants, eight were women, the rest were men. Of thirty-three informants whose ages are known, seven were in the age range 60-69, seven in the age range 70-79, six in the age range 50-59, and five in the age range 40-49. The oldest was Rosa de Arce vda de Parsaso who was ninety-one at the time of the interview. The second oldest was Ernesto Mocodompis who was eighty-nine. The youngest informant was Edgar Subu who was thirty years old.
Some of the informants are descendants of Indonesians who had gone there long ago. Some are first-generation Indonesian migrants; a few are second-generation Indonesians.
The Sangils of Davao del Sur are considered natives of Davao and are classified as a separate tribe. They are descended from ancient Indonesian migrants from the Sangihe Islands. These Sangils have since become Filipino citizens. It is interesting to note that old Sangil families can relate genealogies that go back several centuries. Some of these genealogies point to connections with Maguindanao or Buayan royalty. Some names that crop up in these Sangil genealogies, like Kadjamu, Sansialam, and Makabarat are real historical figures that appear in Dutch records and are mentioned in Majul's Muslims in the Philippines (1973). A quick comparison with other sources shows some errors in these genealogies, but nonetheless they are worth studying because they appear to provide some information that can fill gaps in Davao, if not, Maguindanao history.
Sangil oral traditions likewise provide interesting sidelights that enrich Maguindanao history, particularly the fact that Buayan royalty also ruled the Sangil Islands and the Davao region. Some of these genealogies and legends are presented below. More materials of this kind around the Sarangani region might still be uncovered that will further clarify the political and economic dynamics in southern Mindanao.
Another old Indonesian link is represented by the migrations or trading activities of ordinary Indonesians that occurred a long time ago. The Spanish Jesuit priests working in the Davao region in the second half of the 1800s already mentioned the visits of Talaw (Talaud) traders in Davao Gulf. Some of them apparently were not able to return to their homes. A Kalagan informant with Indonesian blood relates that his Indonesian ancestor was captured and enslaved by Davao pirates. The ancestor was lucky, as his companions were all killed. 7
Interestingly, some families with Lumad blood claim Indonesian links. The descendants of the Bagobo Agton of Toril claim that Agton came from around the Sarangani area and that he had Dutch blood. 8 Similarly, the Dibabawon Buntas family claims an ancestor named Magno who came from Indonesia, and that he had Dutch blood. 9 These original ancestors were mestizo-looking, the Dutch origin suggesting Indonesian links.
The accounts of the more recent migrants indicate that the migration was a family affair. Some informants trace older members of the family who had come here. These were their grandparents, or parents, or uncles. Some remember ancestors who came here around 1919. One Indonesian migrant who came here in 1919 was Kolonao Lahaber whose daughter married the Spanish Venancio de Arce  De Arce's descendants can be found in Sarangani Islands and Davao del Sur today, including Rosa de Arce vda de Parsaso.Most of the recent migrants came from the Sangihe region, a few were Talaws who came from Talaud Islands. Many of them were in elementary grades, a few were high school graduates, while one or two were professionals. The accounts of the informants show a lot of them were farmers; one was a clerk; and two were teachers. The women migrants were mostly of peasant origin. What this indicates is that the migrants came from different backgrounds.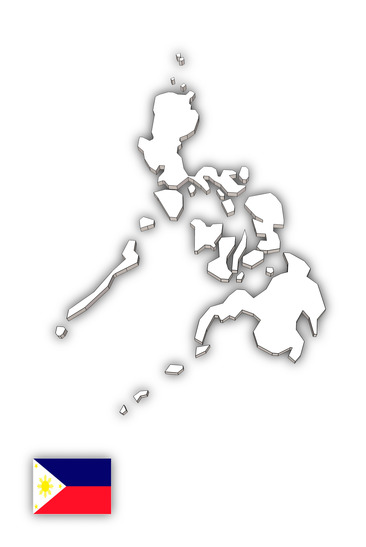 Motives for Migration to the Philippines
A common reason cited by the Indonesians in coming to the Philippines was to find work in order to have a better life, or to earn enough money to buy something. There were other specific reasons: to look for a relative or relatives, to buy medicine, to escape from the Japanese, and to teach Islam. The last reason was given by an Islamic teacher who was invited by the Indonesian Moslems in southern Mindanao to teach Islam to them.
From the accounts it would also appear there was much smuggling going on between the two areas done by both Filipinos and Indonesians. The Indonesian traders and/or smugglers would be relatively well-off and did not stay in the Philippines. But they were responsible for ferrying the migrants in and out of the Mindanao.
The Sangihe-Talaud region is where most of the Indonesian migrants in the Davao-Cotabato area come from. The Sangihe and Talaud are a chain of islands stretching from northern Sulawesi to the southern Philippines. The Sangihe island group is separated from the Talaud island group by some 100 km of sea. The Sangils speak a different language from the Talaws.
Of seventy-seven islands, fifty-six are inhabited. As of 1996, there were 260, 370 inhabitants in the two island groups. The major Sangihe islands are Sangihe Besar, Siau, Tagulandang, and Biaro; while the major Talaud islands are Karakelang, Salibabu, Kaburuan, Nausa, and Miangas. 10 The northernmost Sangihe island is Marori, which can already be seen from Sarangani. The northernmost Talaud island is Miangas (Palmas Island).
In 2002 the two island groups became separate administrative units, with Tahuna designated as the capital of Sangihe, and Melonguane of Talaud. Tahuna was the base of a Sangil kingdom which was most likely connected to the Buayan Sultanate in Cotabato.
In the 1960s and 1970s, the Sangihe-Talaud regions were described by the informants as very backward. The roads were very bad or non-existent, and there was no overland transportation. People just walked from place to place. As of 2002 there is now a small airstrip on both islands to service a weekly flight.
Until the 1970s, the Philippines was known to the Indonesians as a place where work could easily be found; and things were very cheap. Earlier migrants in the 1920s were attracted by the availability and fertility of the soil, particularly in Sarangani. There are no accounts so far that suggest that the American or Japanese plantations actively recruited Indonesian labor. 
Around the Sangihe region, the common crops grown are coconuts, cassava, vegetables, bananas, rice, corn, and sagu. Most of the plants, as well as the fruits, are similar to what can be found in the Philippines. Durian is also available. The major crops in the Sangihe region not found in the Philippines are pala (nutmeg) and cengkeh (clove). 11 Cengkeh is largely consumed in Indonesia in the form of cigarette called kretek.
In many areas, the most common source of income was copra. Copra was sold to the small store owned by the Chinese. What the people earned from copra they used to buy basic commodities.
In the Tabukan area, also in Sangihe, fish was plenty. The kinds of fish were bariles, tangigue, marang, burot, mansa, lumpiyat, lapu-lapu, timbongan, etc. But according to one informant, they hardly sold the fish. What the fishermen caught they distributed among their relatives. 12
Practically all the informants gave the same description of life of the places where they came from. It was mostly subsistence living, a hard life where money was difficult to earn, and commodities were very expensive. Whether he was farmer, fisherman, teacher, or clerk, the prospective migrant was attracted by stories of easy money in the Philippines where "everything was affordable." 13 One informant from Talaud said that in 1949, the year he left Indonesia, rice was being sold by the kilo, whereas in the Philippines it was sold by the ganta. In Indonesia, a t-shirt with the brand Tango cost P300 in Philippine money, but the same t-shirt cost P25-30 in the Philippines. 14
This type of good stories drowned out the bad stories about the Philippines. Apparently, even during this period, the southern Mindanao region still had the notoriety for kidnappings (of Marori women), 15 and killings. As mentioned above, one informant retold an account of his Indonesian ancestor who was captured and made into a slave in Davao Gulf. A legend tells of Sangil hero Sarapil who went to Sulu to rescue two maidens from Manganitu who had been captured in a Tausug slave raid. 16
But these negative stories did not prevent the more determined Sangils or Talaws of both sexes from coming to the Philippines. Of the migrant-informants, the common age range in coming to the Philippines was 16-20 (forty-eight percent), followed by the age range 21-25 (twenty-four percent), and the age range 26-30 (nineteen percent). One informant had come at age eleven, and another at age thirteen.
The chief sources of stories about the Philippines were relatives, friends, and neighbors who had come to the Philippines and went back to Indonesia either to visit or go back home permanently. Apparently many boats plied the route between the Sangihe-Talaud Islands and southern Mindanao. Many of these boats did illegal business as the informants themselves talk of frequent smuggling between the two areas. Human smuggling was part of this illegal business.
Many of the migrants said that they had planned to stay only for two to three months in the Philippines to earn enough money to buy some things, and then return home. With that intention, hundreds, if not thousands of Indonesians arrived in the 1950s. Perhaps the influx could have been influenced by the Treaty of Friendship signed between the Philippines and Indonesia in 1951.
By the 1960s the presence of many illegal Indonesians had become a problem. During this period, discontent was brewing in the Muslim areas. The Manila government feared "Muslim irredentism, involving Moroland with either or both Indonesia and Malaysia… aroused in part by alarming numbers of illegal Indonesian migrants in southern Mindanao." In 1961, Congressman Datu Ombra Amilbangsa introduced House Bill 5682 in the Fourth session of the Fourth Congress calling for "Granting and Recognizing the Independence of the Province of Sulu." 17
In 1961 a Repatriation and Border Crossing Agreement was signed by the Philippines and Indonesia. Among other things, the agreement required the registration of all Indonesians in the Philippines. The first repatriation was done in 1963, wherein some 1,000 Indonesians were repatriated using the Indonesian Navy Ship MV Morotai. In 1965, another 1,000 Indonesians were repatriated using Indonesian Navy Ship Halhamera. 18
Davao-based journalist Apoyon covered the first round-up of 129 Indonesians from Sitio Laher, Lapuan, Jose Abad Santos in 1963. Some of the informants were among those who were repatriated but apparently, many of them slipped back into the Philippines. One informant recalls that he, his Filipina wife, and small children were almost sent to Indonesia but were saved by a telegram. They had been picked up by an Indonesian navy ship in Mati and brought to Sarangani, but while waiting there for their final trip to Indonesia, the Philippine Navy officers received a telegram from President Macapagal saying that Indonesians married to Filipinas were not included in the repatriation. And so they returned to Mati. 
An informant recalls that they were given three choices. The first choice was to return direct to Indonesia and not come back anymore; the second was to stay in the Philippines and follow the laws of the country and go on a vacation to Indonesia; and the third was to become a naturalized citizen of the Philippines. 19
It would appear some of the Indonesians who were repatriated did not like to be repatriated because many of them returned to the Philippines. Or perhaps some of them merely used the repatriation to avail of free transportation to go home, and then come back when they felt like it. 
In 1963 the Philippines and Indonesia signed an Agreement on the Abolition of Visa Requirements on Certain Cases. This was probably done to facilitate border crossing. However, the Indonesians were still required to register at the point of departure, mostly at Marori. This was what the informants refer to as papers or documents, which they show to immigration authorities in Sarangani. These documents list the names of those who were visiting the Philippines. These legally registered Indonesians were allowed to stay for up to fifty-nine days. Despite the easy registration process, many did not do so, and came in illegally. Some headed straight for the mainland of Mindanao.
Perhaps those who came illegally tried to avoid paying the Alien Registration Certificate tax amounting to PhP10.00 annually. Later the fee rose to PhP169. Today, it is PhP1,060 annually. 20
Depending on their place of origin and the weather, the trip to the Philippines took only two days or two weeks. The trip from Marori to Sarangani was relatively short, as Marori could already be seen from Balut Island. Some informants relate that the trip to Marori from their place of origin could take up to two weeks if the weather was bad. If this happened, they had to stop at certain islands and waited for better weather.
One informant mentions he rode a boat called, in the Sangil language, a setudyo. It was like a launch that had a sail but no outriggers. It was made of lawaan or tugas and could carry seventy-five sacks of copra and seven passengers. Other boat types mentioned by the informants were the paraho (paraw), lantsa, kumpit, and balangay. Most of these boats carried cargo, but they also took in some passengers. Perhaps the number of passengers allowed depended on the space available. The informants mention that in coming here, there were five of them, or twelve, or thirty, in the case of the paraho. One informant who came  in 1967 mentions forty-two passengers who were all covered by one travel paper listing all their names.
The months favored for the trip to Mindanao were June, July, and August 21 because the wind is strong, making the trip shorter. The migrants brought their own food with them. This consisted of bananas and cassava. Cassava is usually cooked, then dried to make it last longer. They also brought dried fish. The fish is cooked, then dried. In the past their water container was a two-meter bamboo called kovong. 22 The ancient travelers brought full coconuts not only for planting but for emergency drinking.
The common strategy in coming to the Philippines was to bring some copra and sell it at Sarangani to get hold of Philippine money. This provided the migrant some money he could spend while looking for work. He could expect help from the Indonesian community in Sarangani. Most of the informants relate they did not feel out of place because there were so many Indonesians in Sarangani. Some of these Indonesians have been there for generations. From among their compatriots and/or relatives, the new arrivals got tips on where to stay, where work was available, etc. From Sarangani they then proceeded to Glan, General Santos, and to the Cotabato and Davao area.
Practically all of the men became and are still are plantation workers, store helpers, rice mill workers, warehousemen, or kargadors. Some of those who stayed in General Santos became workers in fishing boats. A few of them would get better employment as translator or teacher at the Indonesian Consulate in Davao City. Meanwhile, the women mostly became nannies or domestic helpers.
To assist the Indonesian migrant workers, the General Consulate of the Republic of Indonesia (KJRI) based in Davao City established the Rumah Masyarakat. It was some sort of a drop-in center for the Indonesians. Located in Matina, this was a big house rented by the Indonesian Consulate. Several families lived there. Indonesians from other places who wanted to transact business with the Consulate were accommodated there. Aside from this shelter, the Consulate conducted several activities for the Indonesians. Some migrants say they go to the Consulate to participate in elections.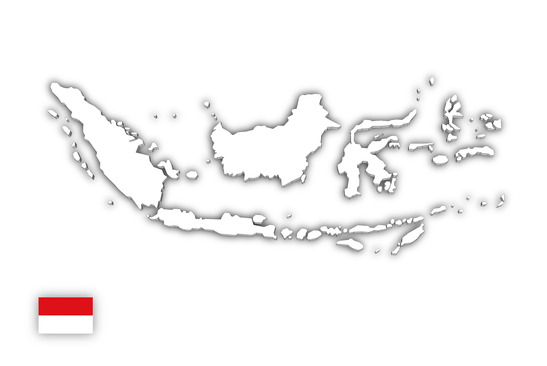 The Life of a Migrant Worker
The accounts of the Indonesian migrants tell of a very hard life in the Philippines. They worked mostly as laborers. Farm work consisted of planting and cutting grass. In rice mills, the work consisted of loading and unloading sacks of rice. As some farm work was seasonal, a lot of them moved from place to place to find work, but they tended to work in a place where there were also Indonesians. They had developed a network that assisted them in finding work and staying with their fellow Indonesians.
The earlier migrants remember being paid PhP2.00 per day. This was the rate in the 1950s. 23 One informant tells of some employers who took advantage of the undocumented Indonesians by not paying them after several months of work. This experience could be widespread as many Indonesians sought work in rural areas.
The situation of the migrant laborer remains very difficult today. One informant talks of getting PhP500 a month working in a rice mill as of the year 2002. While working in a rice mill, he still has to buy his rice. Two of the informants say they work almost twenty-four hours a day, seven days a week. This particularly refers to work in a rice mill in which the laborers are on call twenty-four hours a day as the cargo trucks arrive any time of the day, any day of the week.
Today, some pocket Indonesian communities are still found in some remote rice mills and other farms in Davao, Cotabato, and Bukidnon. In one such pocket in Calinan, Davao City, the Indonesians number a few households. The houses are definitely barung-barong. Children are everywhere. It is a picture of a community poorer than the poorest of a Filipino rural community.
But despite this very hard life, few have regrets in coming to the Philippines, and have decided to remain. Many of them have married here, either to their fellow Indonesians or to Filipinos. While a few hide their true identity because they are still undocumented, many are quite open about their status as nobody bothered to molest them. Many view Filipinos as "very friendly to and protective of Indonesians." 24One informant says that when he enrolls his children, the school officials advise him to just register themselves as Filipinos "to avoid delay." 25
One informant cites his present hard life as a reason for his regret in coming to the Philippines. Like many other migrants, he had intended to work for a few months only, earn enough money to buy some things, and then return to Indonesia. But somehow he has failed to return, and is now ashamed of going home because he has nothing to show to his relatives.
Many other migrants are not so unlucky and have been going in and out of the country. One informant has had grown-up children, some of whom are working in Indonesia, and some in the Philippines. These are the Indonesians who have chosen to stay, returning to Indonesia for visits only. A second-generation Indonesian says his parents work in the copra industry here and "don't have plans of going home because for them home is the Philippines." 26
What this suggests is that working as laborers here in the Philippines is still a better than life in Sangihe and Talaud for these Indonesian migrants. Some of them were small land-owners back home, but the general backwardness of their place drew them to search for a better life in southern Mindanao. However, there is no data as to the number of Indonesians who still come to southern Mindanao to look for a better life today. On the other hand, beginning in the 1980s many Filipinos have been fleeing abroad to work or to immigrate permanently. 27

 Here are some selected personal accounts of the Indonesian migrants. They have been chosen for their varied experiences.  
The Account of Alex Boham 28
I came to the Philippines in 1972. I had heard many people speak of the Philippines. They would always say that life in the Philippines is better. With little effort you can have a number of clothes in quite a short time. I was not really encouraged by such talks because Sangihe was the only place for me.
In 1966, when Mt. Unong Awu erupted, I noticed a number of people who were riding a boat heading for Pulau Balut. It came to my mind that I might want to try to see new places. I was curious if people in other places lived and behaved differently from people in Sangihe. I was curious if the faces were very different. I was also motivated by the thought of having many clothes in a short time, like what the villagers said. But my father kept scolding me for having such absurd ideas. "You don't know anyone there," my father would always tell me.
In 1972, while I was on the bayside with friends, I saw people getting off a boat. I asked a man named Masu where they came from. I learned that they were from Balut. I learned that the boat was there to buy copra. A few people were coming to visit their relatives. I started asking questions about the Philippines. "Life is better in the Philippines. Unlike here, we have better opportunities there and we could buy things we want because almost everything is affordable." That was what they answered and I was motivated to come here.
Masu told me that he would go back to the Philippines a week after. "If you want, you can come with me," he said. I informed my father of my plans of leaving Sangihe. My father was enraged. "Life is better here than in a foreign land. You don't know anyone there. How will you survive in a place where everybody is a stranger?"
 But I insisted. My father said that if I would insist, I would not be given any money. This didn't stop me from pursuing my plans. I borrowed money. I used my father's name in borrowing money from our "suki" in Sangihe. The Chinese merchant had been our suki since my father started harvesting copra. The merchant asked how I would pay him. I said my father's harvest (copra) next week would be the payment. The Chinese man gave me 5,000 rupiah (equivalent to P500 now).
Masu and I planned to meet at five early in the morning. I waited for five long hours for Masu. When I thought I had waited long enough, I headed for Masu's house. I walked and ran the ten kilometers, for fear that Masu might have left me. When I reached Masu's house, his mother said that he already left at five, and that his trip was at twelve noon. I ran back home and grabbed a small bag with two pairs of clothes. I said to myself that I would only stay there for a few days, so two pairs of clothes would be enough. When I was about to go out, my mother shouted at me, " Come back in December."
When I reached the pier, I was mad to see Masu and his friends having a cup of coffee. I confronted him, asking why he didn't pass by my house as planned. Masu said that my father told him not to fetch me. My problem didn't end there, because I needed money (in peso) that I could use when I reach Balut. Fortunately, I saw my aunt, who was into the copra business. She told me that she would give me 200 kilos of copra in exchange for my 5,000 rupiah that the Chinese had lent me. She said that when I reach Balut, I could sell the copra in Philippine peso. With my two pairs of clothes and 200 kilos of copra, I thought everything was not really bad.
I rode the kumpit (machine-operated with sail) with twenty other people. The boat had a maximum capacity of thirty passengers. Even if the boat was machine-operated it took us two weeks to reach Balut, because whenever the weather was bad the boat would stop and wait for the weather to get better. When we reached Balut, I carried my copra and sold it. I was paid in Philippine peso. I didn't have a problem of where to stay because Balut is suku-Sangir (Sangil-tribe) area. I stayed with a relative whom I just met there. I stayed for five days in Maroco (Balut), then I rode a pump boat to Jajangas (Dadiangas, or General Santos City). I cried for one week and regretted leaving home.
People in Balut told me of places where Indonesians worked and lived. I tried to look for them. In Jajangas, I worked as a laborer in a rice mill. I met many Indonesians there. "Kung mahinay ang trabaho, balhin" (If work was slow, move out.) I would always move out with four or five Indonesians. I worked for one year in Jajangas and then moved on to Marbel, North Cotabato, Norala, Isulan, Esperanza, Malaybalay, Kabakan, Bukidnon, then Davao.
It was in 1983 when I first came to Davao. I stayed in Rumah Masyarakat. Rumah Masyarakat was a place where Indonesians gathered. It was situated near Ma-a, it had houses and churches for Indonesians coming to Davao for business or plain visit. I remember that ex-Consul General Hartono would rent houses every August 17. He would rent one house for every delegation (e.g. one house for people from Gen San, another for Sultan Kudarat, etc)
There are two "lungsod" in Sangihe: Peta and Taruna. Tabukan Utara is the capital of Peta. I lived for twenty-two years in Taruna.
Sangihe is just the same as the Philippines. I thought I would see different faces, colors, sizes, and heights of people. Basically, the food is also the same. We also have balanghoy, pisang (banana), rice, fish, and vegetables. Taruna is a community. Copra is the main product. In Taruna, we don't have rice fields. We only have upland planting. We harvest a lot of sagu there. Sagu is a carbohydrate-rich food. Cooking sagu is very easy. We would only grind some fruits of sagu and flatten it in a frying pan (with no oil) like a pan cake.
Products not found in the Philippines are cengkeh, (big tree, used as medicine), pala (like kaimito in appearance, also edible), and sagu (carbohydrate-rich food). However, there are some fruits here not found in Sangihe. I never saw santol in Sangihe. Kaimito is rarely seen in my place too.
I still remember my mother's voice when she shouted, "Come back in December." Thirty years have passed but I have never gone home. I wrote letters to my family. But in 1993, I stopped because my father scolded me. My father would always tell me how irresponsible I was for leaving them alone. My four older siblings would also write to me, telling me that I should be in Sangihe to take care of my parents. All of my siblings are working in Manado. I told my parents life here is not easy. But my pride would always stop me from admitting to my father that he was right. I told them that I also wanted to go home, but I didn't have enough money.
 From 1985 until now, I have been working as a laborer in a rice mill in Calinan. Life is really tough. I have to work almost twenty-four hours a day, seven days a week just to earn a meager income of P500 a month. Though I work in a rice mill, I still have to buy my own rice. I really find it difficult to budget a small amount of money. Sometimes I regret believing Masu and all his stories. I have no plans of looking for another job because I am already old, and working as a laborer is the only job I know. And if I do move out I will have a problem because even in rice mills, competition is tough.
The Account of Pilipus Alase 29

 I came to Mindanao on 7 June 1949 after the war. I came here because during the time of the Dutch, things were very expensive. Rice in the Philippines was measured in ganta, but in our place, it was already in kilo(gram.) Clothes were very expensive. T-shirts with the Tango brand cost P300 (if converted in Philippine money), whereas it cost only P25 or P30 in the Philippines.
 We traveled from Karatong (in Talaud) to Tagbibi in Governor Generoso (Cape San Agustin) on a boat with a sail. We call that boat paraho 30 in our language. There were around thirty of us on the boat, all males.
If there is wind, then the trip takes two days and two nights; but if there is no wind, then we just float (lutaw-lutaw) on the sea, and it might take one week. We do not use the oars because we just wait for the wind. It is very tiring to use the oars as our destination was very far.
My cousin Heber Sasube was the one who led the men on the trip. He was also from Karatong. We did not know anybody here, neither did we have any papers. When we reached Tagbibi, we stayed there for a while.
On the third day of our arrival, we were able to find work because there was a Spaniard who took us to work for him. I have forgotten the name of the Spaniard. We cut the grass (limpisa) in the coconut plantation. I worked in the plantation of Matute. My companions also worked in the other plantations. After two weeks, my companions returned to Indonesia.
I remained in the Philippines because in the past there were many Indonesians in Pangasinan, Pantukan and I had another cousin there, Melanton Maarise who took me. I found work in the hacienda of Nong Celso Sarenas and I have stayed here up to the present. I have worked here for over fifty years. My present work is to go to the bank to deposit or withdraw money.  Sometimes I also assist in weighing the bananas or copra.
I was on the list of those who desired to remain in the Philippines. But until now I am not holding any papers from the Indonesian Consulate.
My cousin Maarise returned to Karatong because he had long wanted to go home. He did not come back to the Philippines again.
I am a Protestant, although I also attend the services of other Christian churches that I like.
In Indonesia I was a high school graduate. Back home I was the secretary of the Mayor of Karatong. I worked there for two years. I was forced to resign because I made a girl pregnant while we were still unmarried. And the girl would also not marry me because we are first degree cousins on my mother's side. My child with this woman is named Hilda Pangalo, who is now reportedly a teacher in Beyo, Talaud Island. The mother of the child has married somebody else.
People from my town who came to Cape San Agustin told me that Hilda wanted to see me. But I did not want to go back to see her because I am ashamed of what I had done, and I have remained here in Pantukan ever since. I want to send something to my daughter but the boat from Talaud rarely comes now to this place. Pantukan is nearer to Karatong than Karatong is to Manado.
My father was Paulus Alase, my mother was Martha Pangalo. My sisters are: Anlina and Pina. My father died while I was still very young. I do not know the names of my grandparents.
Our place is as big as Samal Island (in Davao Gulf.) Most of the people are farmers, planting coconuts, bananas, rice, camote, gabi. Some are also fishermen. After doing work in the farm, most farmers go to the sea to fish. We have pigs and cattle. The cattle cart the copra. Pigs are for food. We also have plenty of birds, like the lorry. 
 The part near the sea is white sand, but the earth for our farm is black. We have fruits like mangoes, durian, rambutan and mangosteen. We have pepper, sibuyas (shallots), tomatoes, garlic, lemon grass, bumbay (onions).  Most of our food is vegetables cooked in coconut milk (ginataan) and fish.
 Our women wear patajong, the men wear pants.
 We use Malayo when talking with the Sangir because we, Talauds, do not understand the Sangil language.
The Account of Josep Tahumoa 31
I was born in Manado, but my father was from Talaud Island. My mother was Juliana Walone, who was from Manado.  We lived in Batumbalango which was part of Katsamatan-Isang. In the past, this was part of Beyu. When my parents separated, my mother returned to Manado. I was left in the care of an uncle on my father's side in Batumbalango.
In 1947 my father Thimotius Tahumao came to Mindanao to look for work. My father liked to travel and he worked in the hacienda of Mendoza in Pantukan. My father married a Filipina named Rosario Taray, who was from Leyte. She was separated from her first husband, a certain Lapuz. My father had one son with Rosario who was named Jesus.
My half-brother Jesus carried the family name Talimba because when he was baptized, his baptismal sponsors forgot the complete family name of my father. They remembered only "Ta," and they added "limba." At that time, it was not yet strict, and the family name of the baptized child could be anything (mamao-mao lang.) I am close to my half-brother Jesus.
In 1965 the Indonesians were told to return, and my father was one of those who were repatriated. But he managed to return to the Philippines.
I was motivated to come here because of my father. My father had told me that if I wanted to come to the Philippines I could always look for him. I was twenty-one years old when I came to Mindanao on a boat with a sail. That was in 1966. There were forty-two passengers, all covered by one travel paper that listed our names.  From Batumbalango, we went to Kakorotan Island. If the weather is fine, it takes only one day, but if not, the trip takes two days. From Kakorotan we went to Miangas Island, and from there we got passes for our trip to the Philippines.
We landed in Mabila, Balut Island, because that was the border crossing at that time. Our passes said we were allowed to stay for 45 days only. We immediately got work there in the coconut plantation of a Spaniard. Our work was cutting grass.
After forty days, the customs people told us to prepare to go home. And after 45 days, the boat that had brought us to Mindanao sailed back for our place. At six in the morning, we went to Cabiao, but at ten in the morning the habagat (southwest wind) blew very hard, driving our boat to Cape San Agustin where it ran aground.The workers of Matute helped in freeing the boat. Since it was bruited about that the Talauds were good workers, we were invited to work there. We went to the warehouse and changed our wet clothes. What I suspect is that the ship was beached intentionally in Cape San Agustin because some of the passengers had relatives in Magdog, Sigaboy.
The police heard about the landing of the Talaud men, but they did not arrest us because we were working for Matute, and we had papers with us. We worked at Matute's farm cutting grass.
 Then in the middle of December, we were told that we would be repatriated to Indonesia. I was sad about this because I had not yet seen my father. I sought advice from oldtime Talauds in Magdog. I was going to get married back home, and I wanted the help of my father because things were very cheap here. Twenty pesos was enough to buy iron pots, plates, spoons, clothes, etc. I wanted to bring these home with me. My companions bought goods in Tibanban for pasalubong to their families back in Indonesia. I did not buy anything although I had P80.
With the help of an Ilonggo worker of Matute, I escaped from the group that would go to the boat. But two men were sent back to look for me, and I had to go with them. However, after supper I made my escape again, and I hid in the bushes. The head guard of Hacienda Matute fired shots in the air. There were many shots. I tried to control my fear, but I never left my hiding place.
At around two o'clock in the morning, I heard the Ilonggo calling my name. The Ilonggo brought me to his house and made me sit near a box of carton, and then covered me with a blanket. Since the two Indonesians could not locate me, they went back to the boat, and the boat left without me.
I worked in the hacienda of Matute with the assistance of the Ilonggo. I stayed with another Talaud named Andres Sono.
I wrote my father to fetch me from Sigaboy. In two months' time, I finally saw my father who brought me to Pantukan. We were given P200 as a parting gift for Pantukan, but the money was given to my father. It was supposed to be the payment for my work at Matute's. My father was a gambler and we always fought over it. Even if he could no longer walk because of a sickness he still bet on the last two game.
We would not have had a hard time if Father had been good and had sent us to school. But he was a gambler, and I rather regretted coming here to look for him. Father died in 1997.
I got married in 1971 to Fe Tolentino who is from Ayala, Zamboanga. Her father was a Maguindanao Moslem, while her mother was a Zamboanguena.
In Pantukan I worked at the hacienda of Piansay. I also took other jobs just so we could eat three times a day and send my children to school. In 1974 I worked in Santa Ana Pier as a copra laborer. I rented a house in Rosemarie, Agdao. I rented it for P40 a month.
I only finished Grade 1V in Indonesia because I was not the priority of my uncle and aunt who also had to send their own children to school.
 I was a Protestant in Indonesia but I have since converted to Catholicism because of my wife.
In Indonesia the government made you cut grass along the road without pay. The fisherman cannot earn money because he gives the fish to his relatives. The other fish he barters for camote or whatever they lack. If you do not plant, you have nothing to eat.
We lived very far from Beyu. It is now reportedly better because there's already an airplane that lands there, but I don't know if it is true because I haven't returned to Indonesia. I would  rather use the fare for food and for sending  my children to school.
Now we live near the cemetery in Pantukan. We do not have to pay rent, and we can plant and raise pigs. I have tangkong and bananas. From tangkong I earn P50 to P60 per day. I also have chickens and goats to meet school expenses.
At present I am now sickly. I suffer from enlargement of the heart. I had difficulty breathing when I had no medication yet.
My children are: Delia, Joepit, Josephine, and Ratchie. My eldest daughter did not finish high school because she got married. She now lives in Nurallah, South Cotabato. My only son, Joepit, finished high school, and is now helping me cut wood or coconut.
My third child, Josephine, is living at Buhangin NHA in Davao City. She works as nanny to a Grade 2 Japanese kid. She finished high school. Maybe she will be able to continue her studies. My youngest child, Ratchie, is a second year high school in Pantukan.I prefer to stay here because if you work you can earn money and send your children to school.
The Account of Herman Lamitegue 32

I  arrived in Balut Island, Mindanao on 10 December 1948 with my uncle, Legenang Asnar. I was eighteen years old at that time. My uncle Asnar had come to Mindanao earlier in 1918 in Baliton, Glan, South Cotabato. We rode a boat with a sail, and it took us two days and two nights before reaching Balut Island.
I  asked permission from my father, and my boss, to come here. Back home I was working as an aide in a small clinic in a place called Pintareng. I wanted to come with my uncle so that I could buy clothes and a Parker fountain pen. My intention was to stay for three months and then return to Indonesia. There were around five or six of us who rode on the boat.
Our place was poor (lisud) because we were far from the center. We did not have horses that could help carry our farm products such as copra, camote, etc. Most of the people there were farmers and fishermen. Our center was Tahuna.
It was only in 1953 that I was able to return to Basau because I liked it here in Mindanao. My first work was at my uncle's place in Glan. I worked in a bakery, making and selling bread. Then I found work in General Santos City as a salesclerk (tindero) in a small hardware store from 1953 to 1960. In 1954 I got married to an Indonesian who was living in Glan.
In 1955 I was appointed by the Indonesian Consul Bagio as the liaison officer of the Indonesians so that they could get papers as migrants. I received an allowance whenever I was called by the Consulate. In 1961 I began to have an office right in the Consulate which was then located at Anda-Bonifacio in Davao City. I lived in Matina in a house with many other Indonesians opposite the Manalac residence  Later I moved to Claudio where I rented a house. In 1967 I was able to build a house as a squatter at my present address through the assistance of Mrs. Victoria Maravilla.
I retired from my work in 1987. I did not receive any benefits, and I have some grievances (kahiubos) because my son Herman Jr. who took over my position was dismissed from his work. Herman Jr. has had no work for the past four years because whoever has connection (lakas) is the one who gets a job.
I have documents saying that even long before, the Filipinos and Indonesians crossed over into each other's territory at will (tabuk-tabok) in fishing and living in each other's place. The documents also say that we were the first Indonesians to come here. The Indonesian pioneers in Mindanao were:  Ampuang married Ruatangkan; they begot Datu Tahidumole who married Hiabunti; they begot Datu Matumama who married Lalakangbulang; they begot Ondolilare who married Waulana; they begot Lapatua who married Binilangkati; they begot Ampuang 11 who married Belisehiwu.
Ampuang 11 and Belisehiwu begot the following children: 1. Balatanggara, 2. Ratu Mangantanusa, 3. Tubu-tubu, 4. Mangingbulang, 5. Manamehe, 6. Tandingbulaeng, 7. Tikase, 8. Bawu Raupang, and 9. Lamanaowa.
Balatanggara , Ratu Mangtanusa, Manamehe, and Lamanaowa went back to Sangihe Island. Tubu-tubu went to Bolang Intang. Mangingbulang went to Sulu. Tandingbulaeng, Tikase, and Bawu Raupang stayed in Mindanao.
The document mentions that Balut Island was called Marulong, meaning, it is just near Marori Island. One Indonesian named Wasing became the wife of one of the Maguindanao Sultans – Tubu-tubo. Their son Manamehe had a stone named after him in Marulong. That stone is still there.
This document was written by Amin Lombang, one of the kulanos of Marulong in the year 1927. The document relates that one of the sons of the legendary hero Gumansalangi grew up in General Santos City. He was named Timpuandatu, and a cape is named after him, Tampuan Punta. A kulano is equivalent to a sultan in Mindanao.
As far as I know, Olarte and De Arce married Indonesians. 33 In 1918, the Indonesians planted coconuts in 1,000 hectares in Balut and Sarangani Islands. They asked permission from the kapitan del baryo that they would pay taxes. One Indonesian, Andres Macpal lost his land that he was cultivating to a Paras from Cebu because Paras applied for it. The Indonesians were not allowed to own land because they were aliens.  Paras brought arms and threatened the Indonesians so he would harvest the copra. A case was filed in 1960 and it was resolved in 1974. Andres Macpal returned to Indonesia. The coconuts were planted by his father-in-law Tekorang.
Starting in 1961, all the Indonesians were registered as agreed upon by both the Philippine and Indonesian governments. This was the Repatriation and Border Crossing Agreement. In March 1963 more than 1,000 Indonesians were shipped back to Indonesia on the Indonesian Navy ship Morotai. In 1965 another 1,000 Indonesias were shipped back to Indonesia through the navy ship Almahera. But most of the Indonesians returned to Mindanao. 
Most of the Indonesians work on pakyaw basis in rice mills in General Santos City, Tupi, Marbel,  Banga, Sultan Kudarat, Tacurong, Kabacan, Kidapawan, and Calinan (Davao City). Those in Balut and Sarangani are mostly coconut planters, but in Tibanban (Cape San Agustin, Davao Oriental) they are mostly workers in coconut plantations.
My parents are Heskiel Lamitegue and Nelci Ondino, all from Basau, Sangihe Island. Before they were Christianized and became members of the United Church of Christ of the Philippines-Baptist Church, their names were: Simere (father), and Umanglawo (mother). There are four of us, children: Ochnia (f), Hadia or Herman (m), Anetje (f) and Antje (f).
My grandfather on my father's side (Simere) was Montosina who married Menteuhiade. They begot: Mangemba, Lendiurame, Simere, Arininta, Kokidalaer, and Katiure. My grandfather on my mother's side (Umanglawo) was Manise who married Nuruona. They had only one child, Umanglawo.
I lived in Merlinda Adelis' house and I have only one son: Herman Jr. who was born in General Santos City on 23 December 1956.
I also possess the genealogy of our foreparents from Siau and Sangihe Islands as shown in the second document. Ahunsehiwu from Siau married Liuntolosang. Ahunsehiwu's line can be traced back to Gumansalangi, the son of the sultan of Cotabato, Mindanao. The father of Gumansalangi was Timudai, and his mother was Bintang Karamat from Ternate. Gumansalangi married Rondaasa or Kondawulaeng, the daughter of the king of Khayangan near the center of the forests of Meranao o Maranaw in the Philippines.
Gumansalangi and Rondaasa were commanded by the king of Khayangan to leave and look for a place of their own. Bawangunglare, the brother of Kondawulaeng (Rondaasa), was turned into a cobra by his father to accompany the couple to the place that they would claim their own. They would know the place that was intended for them if they would encounter the signs of hard rain and lightning storm when they reached the place.
Of all the places that they reached riding on the cobra, 34 the place that showed all the signs as told by the King of Khayangan was Tampunglawo or Sangihe Island. The old name of Sangihe Island was Tampunglawo (tapukanan sa mga tawo in Cebuano) or meeting place of people. The people there received them well and they were made the king and queen of the place.
The couple changed their names. Gumansalangi became Vizier Medelu because he was like the jinn of thunder (delu) 35 while Kondawalaeng became Princess Mekila 36 or Princess of Lightning because a lightning storm occurred when they reached the place. 37 This is the legend of Gumansalangi. The complete details of the story can be found in the book Stories of the Origin of the Sangir People. In this book will be found our ancestor Mokodaludu, then Gumansalangi, and our last brave warrior named Makaampo.
The Account of Jasmine Tolas Tatais 38

I was born on 30 October 1951 in Salurang, Sangihe Island. My parents are Arikus Tolas and Rahel Sangguli. My brothers and sisters are: Merdeka, Abner, Agnes, Agustin, Siu, Liku, Rakni, and Rosni. I cannot remember the names of my grandparents.
I came here to look for work. I asked permission from my parents, and I came together with acquaintances in 1970. I was only seventeen years old then. We rode a boat with a sail. The route was Marori Island-Balut Island. The trip took only one day because the wind was very strong. At Batuganding, we showed our papers to the Philippine Navy Officer. The papers came from the Indonesian Consulate in Marori Island.
I worked in General Santos as laundrywoman and ironing woman (plantsadora). At first, I just used sign language as my means of communication with the Filipinos because I did not yet know how to talk in Bisaya. 
In 1972 I married Daniel Tatais who is also an Indonesian. I was nineteen years old at that time, while my husband was twenty-eight years old. Daniel was from Tahuna who finished a teacher's course and taught in the elementary and high school in Tahuna. He came to the Philippines in 1969, and worked in the rice mills in Allah, Ampatuan, and Marbel, South Cotabato. Later he was called by the Indonesian Consulate to teach in the Indonesian School. He died in May 2002.
I was able to go home to Indonesia several times, in 1987, 1992, and 2002. I like it here in the Philippines and I use the cellphone to communicate with my relatives back in Sangihe because sometimes I miss them.
To go home, I rode the launch of an Indonesian businessman who docks his boat in Santa Ana Pier (in Davao City). The trip is free, but only one or two passengers are allowed, since the launch is not intended for passengers. It takes one day to travel to Miangas Island, then one night from Miangas to Peta, which is in Sangihe Island, near Tahuna. From Peta, I  take a jeep to go to Salurang. The fare is 1,500 rupiah.
My children with Daniel are:  Dince (f), already married, living in Manado; Martha (f), married, in Davao; Olfindo (m), married, in Davao; Syane (f), single, in Manado, and Maria (f), single, in Davao.
The Account of Erliansi Rakinaung Gampamola 39

I was born on 22 December 1942 in Tamako, Sangihe Island. My parents are: Jonathan Rakinaung, father; and Diana Tinungki, mother. I have four other siblings: Maria, Yuhanis, Blandina, and Hermina.
I came to Mindanao on 25 October 1962 because my uncle who was staying in Pagang, Glan invited me to come here. My trip was on a boat with a sail. There were around twelve people on the boat. We sailed from Kaluwatu toward Tango near Glan. The trip took one week because there was no wind. There were no papers then at that time. We just came here straight from Indonesia.
 My uncle came here in the 1950s. They planted coconuts in a large area covering thousands of hectares. They liked it here because things were cheap.  A lot of our relatives got married here.
I worked as a housemaid. I washed clothes and took care of children.
My husband's name is Hasany Gampamole. He was a laborer of Diya Rice Mill where he worked for fifteen years before transferring to Cantoja Fishing Co. in 1999. He moved out because he had no SSS. But he still has no SSS because he was already sixty-two years old when he transferred.
My husband has land of around ten hectares in Indonesia. It is planted to coconuts. I, myself, also own land of six hectares back in Indonesia, also planted to coconuts.
We have two daughters; Beatriz and Erlinda who are now in college. Beatriz is in Third Year College at the Holy Trinity College, while Erlinda is in First Year College at Notre Dame College.
Of the stories told by our old folks, what I remember is about the tomb in Tuguis which continues to grow in size until today.
 I was requested to translate a document given by Herman Lametigue, and these are what I remember:
The tomb in Tuguis contains the body of Umar Masade, an Islamic Imam. It is being tended by the people of that place. Masade came to and fro from Tabukan to Tuguis riding on a huge plate.
 From Marulung, the story of Panurate has no continuation.
 The third generation descendants of Umar Masade and Panurate are Melanginusa, who worked in Balut and Sarangani, and Nalikunusa, who went to all places in Mindanao. They were not able to return to Tabukan and their descendants have multiplied here. This happened during the 14th century in Mindanao.
 The Account of Kamini Kitaban 40
According to my mother Pipunas, my bloodline is Indonesian, from Miangas. It is the story of Pipunas's lolo 41 who came to Davao with several companions. They rode on a boat with a curved prow. Their purpose was to trade items like iron, plate, jars (tadyaw), that came from Hong Kong, Malaysia, Singapore or Brunei. This happened before the coming of the Spaniards. They brought coconuts with them, the variety called golden coconut. That was what they brought with them because they used the coconut water for drinking.
When they entered Davao Gulf they were blocked in the high seas by the men of the datu. These men wanted to rob them, and get all the things that they brought with them. My lolo was the leader of the group, and he ordered his men to throw everything overboard so that the pirates would not get anything. But they were not able to throw everything and the Moro pirates were still able to get something. The natives of Davao picked up the coconuts and planted them, that's why there are golden coconuts here in Davao.
They were all arrested, and my lolo was turned into a slave, while his companions were told to return home. 42 My lolo was strictly guarded and he was made to do very hard work. But when he was told to wash the soiled diapers of the datu's children, he complained to his guards and requested them to tell the datu that if they wanted to make use of him, then they should not give him these kinds of task. My lolo saw that they did not make any knives, and he volunteered to make knives provided he had the raw materials.
The datu listened to him and he was given the new work. Because of this work, he was no longer considered a slave. He was no longer strictly guarded, and he was allowed to marry a Dabaweno. He stayed here for a long time and did not return to Miangas anymore.
I do not know the name of this lolo. I have never gone to Miangas. My grandmother, the mother of Pipunas, is from Matina, Davao City.
During the time of the Americans there was an epidemic called buti–buti or small pox, so we transferred to Madaum. In Madaum our clan celebrates annually the arrival of our Indonesian lolo. The preparations used to take 18 days because it took nine days and nine nights for our lolo to reach Davao. There is no fixed date for the celebration. The members of the clan just agree among themselves as to the date to commemorate the arrival of our lolo. Today, due to the difficult times, the preparations just take nine days.
On the day agreed upon, all members of the clan ride the banca and there in the high seas we throw overboard all the things that we bring with us like fruits, coconuts, and food. Some other people who are not members of the clan also go out to sea and scramble to get the things we have thrown into the sea.
My father is a Kagan (Kalagan) Moslem named Kitaban. I have an older sister named Okidan who is 14 years older than I am. 
My father is a farmer producing rice, abaca, coconuts, and fruits. He likewise raises chickens and occasionally goes fishing as they live near the sea. Pipunas sells amik. 43  She is also a good weaver.
I am married to a Madaum girl named Sayranon Guba, and we have five children, namely, Jovito, an undergraduate mechanical engineer; Elaine, teacher; Lourdes, commerce graduate; Adjoumar, full-fledged mechanical engineer and presently barangay captain of Madaum; and Roger, commerce graduate and a fruit merchant in Davao City.
I myself finished second year high school at Mampising School of Agriculture. When I was eighteen years old, I became a barangay councilor. I was barangay captain of Madaum for twenty-six years, from 1963 to 1989,  I know how to speak a little Indonesian because in 1945 many Indonesians landed in Davao due to troubles in Indonesia. Many of them worked in the houses of local residents. After one or two years, they returned to Indonesia, in Salibabu Island, Melanguwani.
During the war I worked as a foreman in a landing area of the Japanese. I was able to study Japanese. I was a foreman at the Iho plantation, specially in felling the trees for use as fuel in boiling water for the abaca. The American Odell of Iho Plantationwanted me to continue studying in America, but I refused his offer.
 The Account of Ernesto Mocodompis 44
It all began when my cousin Lesbe visited our hometown in Indonesia. Lesbe was married to Simon Pareda; both of them are Indonesians. They are from Marori Island, and they were one of the pioneers of Sarangani. When they came to our place, they said that Sarangani was a good place to live in, and that the law was not strict regarding (travel) documents. I was told that if I wanted to study English, it was free in the Philippines. That was why I was encouraged to look for higher education.
I finished Grade 4 in Indonesia also for free. My religion is Protestant Evangelist in Indonesia. Our livelihood was farming and fishing. I did not have any work after graduation.
I was twenty-one years old when I came to Mindanao. This was in 1934. We rode a boat that had a sail. From Tahuna we went straight to Marori Island. It took only one day because the wind was strong. We stayed for two days in Marori before sailing for Sarangani. It took one day only because the wind was strong.
In Sarangani we went straight to the house of the Paredas. We stayed there for one month. Our work was cutting the grass in the coconut plantation. Then we prepared to go to Davao. We rode a boat that had a sail toward Santa Ana Pier in Davao. We landed at the side of the pier near a warehouse. We stayed for about a week in the warehouse. We brought provisions (baon) with us. My companions were the Paredas and somebody else who was familiar with Davao named Esboset. The president at that time was Quezon. The Paredas bought kitchen utensils and other needs from Osaka (Store) owned by a Japanese. This was near the present ANTWEL Building (Alvarez St.)
Esboset helped me in looking for a house and recommended me to work as a houseboy in the house of Mr. Duremdes who said that he would send me to school. Duremdes lived in Piapi Blvd.  In less than a week, I was brought to the Central Elementary School in Ponciano Street. Mr. Duremdes was the principal there, and his wife, Mrs. Duremdes, was also a teacher there. Mr. Duremdes was also the owner of Davao Institute located in Claveria Street near Awad Building  which was seven-stories high.
I was always accelerated in school. In one year's time I was promoted twice or thrice. But I went to school for two years only as nobody would spend for my schooling. I also left the house of the Duremdeses since I did not receive any salary, except that I was sent to school. I found work in Matina to cut grass. This was on a pakyaw basis. There were other Indonesians with me. I tried to save money so I could go back to school, this time in Santa Ana Elementary School.
From Matina, I went back to the downtown area to look for work. I went to the Filipino Club in front of the Philippine National Bank, now on the site of the GN Pharmacy. I talked to the manager, Mr. Dominguez, telling him that I needed work so I could go to school. He immediately accepted me and I worked there. There were many people in the Filipino Club at night. I served hot water, offered cigarettes, coffee, etc. to the guests. There were billiards and poker games in the club. I was assigned to serve the Americans and the Spaniards because I knew how to speak English. After a game, I would be given a peseta, and then the American would say: "Don't forget to charge this one chip to the one who won the game." Then I would hand it to the winner and he would give me P20. This was just the tip. My tip was bigger than my salary.
I woke up at four o'clock in the morning. I scrubbed the floor and swept the floor. I also cut the grass. I was always in a hurry because I had to go to Sta. Ana Elementary School. I did not last more than one year at Filipino Club because it was far from the school. So I transferred work in the drugstore of Dr. Halili at Oyanguren Street. I became a salesclerk there (tindero). I was not able to continue my schooling as I got married to Eleanor Canas who is from Dumaguete, Negros Oriental. She was Bisaya-speaking. When Dr. Halili learned that I had gotten married, he established another drugstore in Agdao and I was assigned to manage it. I got married in 1939 and I worked there for four years.
In 1941, the war began and Dr. Halili was called to duty and each one of us went our separate ways during the evacuation. By that time I had two children. First we went to Miral (Bansalan), then we moved to Midsayap as we were allowed to ride on army transport.
I was well-received by the Filipinos when I came here. My siblings and other relatives had objected to my coming to Mindanao as there were many stories of kidnapping and killing here. It was said that Marori girls were being kidnapped.
I returned to Indonesia in 1968, but I went first to the Spice Islands. I worked there as the budget officer and interpreter of Mr. Golanez who had a logging company there and who was conducting a survey of the place. It was only in 1972 that I returned to my hometown, Kolongan. That was because my son Rodelo went to Kolongan and I also went there because my son had taken long to return. Except for Agustin, all my elder siblings are dead. In 1979 I returned to the Philippines. It was a terrible trip because of a big typhoon that carried away all my clothes.  Fortunately we were spotted by the launch of Mr. Garcia. The boat plied the Indonesia route to buy copra, like the boat of William Joyce.
I have eleven children:  Gwendolina, Wardina, Nerelina, Ernesto Jr, Roweno, Rodelo, Ajing, Rolando, Herminia, Elena, and Divina.
 I was only eight years old when my father died. All I know is that my mother's family name is Rinae. 
 The Account of Marcos Marudato 45
 I was born on 1 May 1957 in Glan, Sarangani Province. My parents are originally from Taruna, Sangihe. They met here in the Philippines and got married here. They came here to look for work and a better way of life.
There are eight of us, children. I am the fourth. My other siblings are in General Santos, Marbel, and Glan. I came to Davao in 1985. I was twenty-eight years old then. I like Davao because life is better here.
In 1990, I went to visit Sangihe. I had a problem there because I don't understand Bahasa Sangir. People there are farmers and fishermen. Copra is a major source of income.
While in Sangihe, my father and mother also worked in the copra industry, the same here in the Philippines. They do not plan to go back to Sangihe because for them home is the Philippines. There's no difference anyway.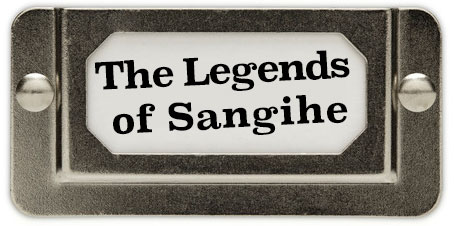 The legends presented here are retold by the Sangil migrants. These appear to be popular legends known to the common people. What is striking about these legends is that they establish the ancient links between the Sangihe-Talaud and southern Mindanao. The Gumansalangi legend explains the Buayan Sultanate claim not only to the Davao Gulf area but also to Sangihe-Talaud Islands.
 The Legend of Madunde
Source: Simon Lambari
 Madunde was king of the entire Sangihe Island, and he married an angel (bitadera), the youngest of nine siblings, all girls. Madunde was a hunter of birds. His weapon to get birds is the blowgun made of bagakay (type of bamboo). You put a sharp object inside, like a stick of a broom, and that is what will hit the bird if you blow hard.
One day, he hit a bird which landed near a river, and there he saw nine angels who were taking a bath. He hid the clothes of one of them so she would not be able to fly. When the angel was looking for her clothes, Madunde approached her and told her that he would only give her the clothes if she agreed to marry him. The angel agreed on the condition that if Madunde captured a bird, he would not burn its feathers or else she would disappear and fly to the sky. The feathers of the birds are burned so they wouldn't litter the roads.
One morning, Madunde forgot his promise and burned the feathers of the bird that he caught. They already had one child at that time. The name was Pahawong Sulu ug Mindanao. After one week, the child kept crying because he was looking for his mother.
One night, they slept, with the boy crying himself to sleep. When they woke up, they found themselves in the house of the angels' father. The father told Madunde to guess which of his nine daughters was Madunde's wife. If he couldn't guess, the two of them, he and his son, would die.
Madunde had a hard time making his choice because the nine sisters all looked the same. But even if he made the correct guess they would still be killed because the father did not approve of the marriage of his daughter. A mosquito went to his ear and whispered that the third girl was his wife. Madunde pointed at the girl and immediately the father of his wife grabbed a kris. Madunde jumped over the right window and fell into the volcano in Siau. Pahawong jumped over the left window and fell in Sulu and Mindanao.
This is the story of their old folks. The places have a relationship because the father went to Siau, Sangihe, while the son was the king of Sulu and Mindanao. They looked for each other, and they also multiplied because their descendants intermarried. 
The Legend of Sarapil
Source: Alex Boham
There were two maidens from Manganito who were kidnapped by a Joloano. The name of the Joloano was Kinawalan. He went to Manganito on a boat operated by a machine. The two maidens from Maganito were brought by Kinawalan to Jolo.
King Sarapil of Tabukan, Sangihe heard of the abduction. Sarapil made preparations to attack Jolo and rescue the maidens. Sarapil brought men with him to Jolo. They rode a machine-operated boat. Those who saw him said that when the boat landed and Sarapil stepped down, his footsteps would catch fire whenever he walked.
When he saw Kinawalan, they had a fight, and Sarapil ordered his men to tie Kinawalan's feet and pull them. Kinawalan's body was cut into two. They were able to rescue the maidens. After this, Sarapil and his men left.
When they were on the boat and were leaving, Sarapil said that they would pull Jolo to Sangihe. His men asked how they would pull Jolo when it was heavy. Sarapil answered that they would use the sands of the beach to drag Jolo to Sangihe. But the king of Jolo begged Sarapil not to do it, and so Sarapil did not do it.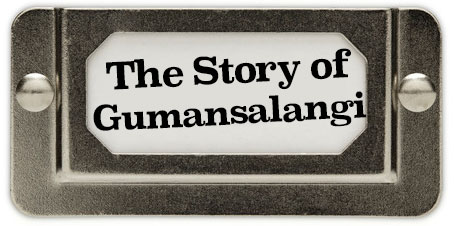 The Story of Gumansalangi 46 told by Haremson E. Juda
We listen now to the story of Gumansalangi, our ancestor on the islands of Sangihe-Talaude.
Our forefathers say that a long time ago about (1300 A.D.) this ancestor came from Cotabato, a city on the island of Mindanao. The king of Cotabato had a son named Gumansalangi. But the prince's behavior was bad and he was exiled deep in the forest.
In that place of exile, he finally came to himself, felt he had erred, and repented. His repentance was so great that he wept, wept loudly in that forest. But his weeping had been heard by the king of Heaven. The king of Heaven now came down and followed the sounds of the wailing. And he found the royal son, the prince, deep in the forest.
Then the king of Heaven returned to Heaven, to Paradise. And he asked his princess daughters which of them was willing to join Gumansalangi down on earth. But the elder princesses were unwilling and only the youngest agreed to do what her father was asking. So she came down to the earth disguised as a woman who was sick, a woman with yaws. The stench was awful. The prince smelled the odor and saw the woman with yaws. Because he was single, he invited the woman to live with him. But the woman refused, because she felt it was not right to live with a person who was well, who was healthy. But the prince urged her repeatedly and she finally agreed.
After staying a few days, she disappeared; she had gone back to Heaven. She reported to her father, the king of Heaven, that the prince had changed. He had treated her well even though she was sickly. But the king of Heaven said again, "Go down to earth." And his daughter, whose name was princess Konda, went down again. But now she took the disguise of a woman with the sickness psoriasis. Its odor was very pungent. The prince smelled it and again followed the odor. What he had done for the first woman, that he did again for this one. Again he urged her to stay with him. But the woman refused. But because of the urging, she agreed.
But after a few days, she again disappeared, just vanished, for she had returned to Heaven to report to her father that the behavior of the prince had very definitely changed. Then her father said, "Go down again. This time you will devote yourself to the prince for as long as you live." This meant that she would now become the betrothed of the prince. So again she went down to earth, going as a very beautiful princess, or what is called a fairy. A delicious fragrance wafted to the nose of the prince, and he again followed the scent. When he reached its source, he saw the beautiful fairy with a face that was simply radiant, and thereupon he fainted. When the princess saw that the had fainted, she pulled off three fruits from a nearby jasmine shrub, soaked them in water in the palm of her hand, and sprinkled the water on the prince, Gumansalangi. The prince then revived and arose. Having done so, he asked forgiveness for having troubled the princess. But she answered, "Don't give it a thought, for I have been sent by the king of Heaven to tell you he frees you, because it is apparent that you have changed, that you have become a good person." Hearing that, the prince immediately bowed to ask forgiveness and said, "I feel it is not right that I become the companion of a princess so elegant, because I am a bad person." The princess replied, "But this has been arranged by the king of Heaven, that I am to become your wife for as long as you live." Beginning that day, the two became a married couple.
Before that (as we say, before the princess became the consort of the prince, his betrothed), the king of Heaven gave them notice: "You two are not permitted to live here. You must look for a new place to live. The place that is to be yours will be indicated by certain signs. When you two arrive there, rain will pour down, a great deluge of rain.  And lightning will blaze forth. And thunder will roar. Until you get there, to this new place, you must be accompanied by your brother, by the brother of your princess, Konda." The name of that brother was Bawagung-Lare. He took the disguise of a snake. This snake would become their conveyance as they headed for their new home.
Before they left, they first circled around the city of Cotabato, circling three times in the dead of night. The residents of Cotabato were thrown into tumult seeing this thing flashing in the sky. But the elders of Cotabato said, "The flashing indicates a snake of great importance, the conveyance of royalty." As a result, the residents of Cotabato were quited and ceased to be afraid.
So Gumansalangi and Princess Konda left, headed east and reached the island of Marulung. But Marulung did not have the specified signs.
So they continued their journey and stayed awhile on Taghulandang. Taghulandang is also called the island of Mandalokang. There they headed for the tallest mountain, which is the volcano of the nearby island of Ruang. But when they landed on its top, there were no signs at all like those spoken of by the king of Heaven. So they descended and headed for Siau, or the island of Karangetang. There they landed on the crest of Tamata, a mountain in the center of Siau Island. They stayed there for several nights, but there were no signs like those their father the king of Heaven told them about.
So the two descended again. Then they stopped at the island of Sangihe, or Tampung-Lawo. There they alighted on the mountain Sahendarumang. When the two arrived on the top of Sahendarumang, they were enveloped in clouds or mist. Then it rained, more and more heavily. That rain was really a deluge. Then the thunder roared. And the lightning blazed forth. The two of them stayed there three nights. As viewed from below, the top of Sahendarumang did nothing but flash. And the thunder was continuous. So after three days the two concluded, "This is the place we are now to live."
Then from the crest of Sahendarumang the two descended and went over to the eastern side of the island, following the course of the river called Balau. Down there they were met by the people of that bay. The two were carried in and well cared for (saluhang) and consequently that place to this day is called Saluhang. The residents of that bay changed the names of the two. Gumansalangi was called Vizier Medelu, for they say he was like the jinn of thunder (delu). But his wife, Princess Konda, had her name changed to Princess Mekila, for they say she was the princess of lighting (kila), because there on top of the mountain the lightning had flashed continuously. After that the two were elevated by the people to the positions of king and queen at that bay. Because that was the place where many had gathered (tampung-lawo), that kingdom was called the kingdom of Tampung-Lawo, or Sangihe Geguwa. That first king was given the title of Kulano. And Vizier Medelu became that first king in Sangihe.
When Vizier Medelu had become old he returned to Mindanao and died there. His kingdom was passed down to his son whose name was Melintang-Nusa. Melintang-Nusa went north and stayed awhile at the place his father came form. There he married a Mindanao princess whose name was Princess Hiabe, daughter of the king of Tugise. After that, his younger brother, Meliku-Nusa went southward and stayed in Bolaang Mongodow. He married a Mongondo princess named Menong-Sangiang. But his older brother became the second king of Sangihe, in the region of Tabukang.
When Melintang-Nusa became old, he went to Mindanao again. There he died and was replaced by his son, whose name was Bulegalangi. At the passing of Bulegalangi, his children scattered throughout Sangihe. His daughter, Siti-Bai, became the wife of Balang-Naung. Aholiba was married to Mengkang-Nusa and lived in Tariang, which is now called Tariang Tebe. Their male heir, Pahawonseke, settled at Sahabe, which is now called Soa Tebe. There he laid the foundation for a separate government. But their other son, Matang-Datu, remained in Saluhang. He too established a government helped by his children Makalupa, Ansiga, and Tangkulibutang. All these became brave warriors of Saluhang. There was also a daughter named Talongkati who was even more valorous, and she was called Bawu-Mahaeng. The son of Tangkulibutang was named Makaampo. He was the last of the brave warriors of the Sangihere, and he caused Sahabe and Saluhang to become one kingdom.
Thus was the lineage of Gumansalangi to Makaampo, who followed the line of the warriors of this bay, who established new kingdoms and towns strewn throughout all Sangihe-Talaud.
Finally, the brother of Princess Konda, Prince Bawangung-Lare, the one disguised as a snake, did not stay with the couple but journeyed farther. Sojourning toward the east and reaching Talaude, he made his home in Porodisa on the island of Kabaruang and ascended to the crest of Taiang. There he married Bokimawira. The place he stayed on Kabaruang has now been named Pangerang. There, there is the mark where a snake glided, the snake in which Bawangung-Lare was disguised.
The end.
A Brief Analysis of the Gumansalangi Legend
As this legend mentions that the home of Gumansalangi was Cotabato, I checked the Maguindanao tarsilas to see whether I would find a Gumansalangi mentioned there. There was none. What I found instead was a Makadulu in the Buayan tarsila, which is suspiciously similar to Medulu, the other name of Gumansalangi.
Makadulu was the chieftain of Taulan located around the Buayan region in the 1620s.  He was married to Kdaw, the daughter of Raja Silongan, the Raja of Buayan.  Makadulu had two sons with Kdaw: Baratamay and Bani. Baratamay would become the Eighth Raja of Buayan, if counting from the first Datu of Buaya, Datu Mamur. With a concubine Makadulu had two other sons:  Undung who became datu of Matabangan, and Nawang who became datu of Talayan.
The tarsila that mentions Makadulu does not indicate if Makadulu ever went out of Cotabato. But what is interesting to note is that he married the daughter of the Raja of Buayan, named Kdaw. According to the legend, Gumansalangi married the daughter of the King of Heaven, named Konda.
Who else would the King of Heaven be, but Raja Sirongan? And who else would Princess Konda be, but Kdaw?  Therefore, Gumansalangi who was renamed Vizier Medulu is most likely the Makadulu in the Buayan tarsila.
The legend affirms the fact that Buayan was the most powerful polity in Southern Mindanao in the early 1600s until displaced by Maguindanao under Kudarat. 
In the legend, the King of Heaven tells Gumansalangi or Medulu and Princess Konda: "You two are not permitted to live here. You must look for a new place to live…" This looking for a new place to live (or rule as datu) is a common motif in the tarsilas of minor Moro royalties in Sarangani Bay and Davao Gulf. The many sons of powerful datus had no way of becoming datus in their own place, and so they had to leave and look for a place of their own. According to the Gumansalangi story, Makadulu was bad and was exiled. Perhaps he became a threat to Sirongan, or Maputi, the brother of Kdaw?
At any rate, what the story suggests is that the Buayans were already extending their influence in the Sangihe-Talaud regions, with Buayan royalties carving out little kingdoms for themselves. Makaampo, a descendant of Medulu, has his own legend retelling his adventures in subjugating the Talaud Islands. Apparently the little kingdoms so carved out were more or less loyal to Buayan, although there were rivalries among the various factions of the clan, particularly with the Maguindanaos under Kudarat. The Spanish intrusion disrupted the expansion and consolidation of the Buayans into this region, with the Dutch finally severing the effective ties between Cotabato and the Sangihe. 
As the Dutch records show, the Sarangani Islands in the 1620s were under the sway of a Datu Mangada who made Candahar (Candigan) his capital. It is most likely that this Mangada is the same Makadulu. Sultan Kudarat attacked him in 1626 and Mangada had to flee and hide in Camalian to avoid paying the tribute. 
The Sangil legend says that in his old age, Medelu returned to Cotabato. An informant from Camalian, Yusuf Mante Ganawan, says he has heard of Mangada, that Mangada lived in Balut Island, but that he went to North Cotabato, and married an Iranun. Furthermore, Mangada's grandson was Buisan. 47 This information is very significant because it tends to affirm the Gumansalangi legend, pointing to Mangada as Makadulu. Herman Lamitegue, an Indonesian born in Sangihe, possesses a genealogy that traces his forefathers down to Gumansalangi! If his version has some truth to it, then it will solve some problems, particularly Gumansalangi's origin. According to Herman Lamitegue: 
The father of Gumansalangi was Timudai, and his mother was Bintang Karamat
from Ternate. Gumansalangi married Rondaasa or Kondawulaeng, the daughter
of the king of Khayangan near the center of the forests of Meranao or Maranaw
in the Philippines. 48

As Majul reports, the Cotabato-Ternate links were quite established so this claim of Makadulu's mother is credible. Perhaps it is not necessary to believe that Makadulu's mother was from Ternate, but that his mother was a foreigner, coming from some islands south of Mindanao. This will explain why Makadulu was in the Sangihe region, possibly to rule in a territory ruled by his mother's family. 
Incidentally, another Sangil legend tells of the adventures of a Mokoduludu around the Manado area in northern Celebes. It tells of constant clan warfare involving Mokoduludu who moves from place to place, with his descendants reaching Sangihe. 49

There is need to further study this story and establish the links between Mokoduludu and Gumansalangi who was also known as Medulu.
Conclusion
Since ancient times, Sangihe-Talaud inhabitants had been going in and out of southern Mindanao. This migration became a flood in the 1950s, the migrants being attracted by reports of easy work and cheap goods in the country. This alarmed the Philippine government and a treaty was forged with Indonesia to register the Indonesians, and repatriate hundreds of illegal immigrants.
 The migrant workers worked as laborers in the plantations, rice mills, and other rural establishments around Davao and Cotabato. A lot of them returned after earning money to buy some things because "everything was affordable here." But many others have remained and have married and are raising their children here with no intention of going back except probably to visit their homeland.
 Many of those who have remained have become integrated into Philippine society. They are the Sangil Filipinos, some of whom possess genealogies pointing to ancient royal roots. But many of the new migrants are ordinary Indonesians who came in search of a better life, reenacting the ancient migrations that tied the southern Mindanao to the Sangihe-Talaud Islands.
Macario D. Tiu
Kyoto Review of Southeast Asia. Issue 7. States, People, and Borders in Southeast Asia. September 2006 
Notes:
"Chronology of Philippine-Indonesia Relations" Satur P. Apoyon, a local journalist who wrote some articles about the Indonesians in the 1960s, provides an earlier date of 1953 for the border crossing agreement. Interview, Davao City. 11 April 2002. These details need to be threshed out. Perhaps there were several agreements. See Appendix 1  for Chronology of  Philippine-Indonesia Relations from 1948 to 1980. ↩

Interview by Charmaine Pastoral of an unidentified Indonesian working at the Indonesian Consulate in Davao City in September 2002. Apparently there was some sort of an Indonesian office at these points where the Indonesians were documented.  But these matters have to be verified. ↩
The Davaoenos say "Sangil;" those from Sangihe Islands say "Sangir." Apparently another way of pronouncing it is "Sangihe." I use Sangil, except when quoting from Sangil informants. I also follow the Sangihe spelling in referring to the island group, following the spelling in a National Geographic map February 1996. ↩
Pendahuluan, typewritten manuscript in Sangir language, undated. It contains the genealogy of Gumansalangi and some stories, courtesy of Herman Lamiteque. ↩
The 35th informant, Rosa de Arce vda de Parsaso of Camalian, Jose Abad Santos, Davao del Sur, is not Indonesian, nor does she have any Indonesian blood. However, one of her step-mothers is an Indonesian, as her father, Venancio de Arce, a Spanish journalist, had an Indonesian wife or Indonesian wives. ↩
See Appendix 2 for her account, and Appendix 3 for the account of her half- sister Gloria de Arce Gabudao. ↩
The informant has requested anonymity. ↩
Interview with City Councilor Shane Dolor on 19 November 2002 in Davao City. Dolor is a descendant of Agton. ↩
Based on talks with Wilfredo Lopez, a Dibabawon, on several occasions in 2002 and 2003. ↩
"North Sulawesi: Adventures beyond Dreams" http://www.northsulawesi.org/satal.html (accessed March 2006) ↩
Nutmeg is duguan, and clove is klabong pako in Tagalog, ↩
 Josep Tahumoa, a  Manado-Talaud born in Manado, Indonesia. Interviewed on 12 November in Pantukan, Davao Oriental by Charmaine Pastoral. ↩
Tomas Mokodompis from Sangihe. Interviewed on 18 July 1947 in Calinan, Davao City by Charmaine Pastoral. ↩
Pilipus Alase from Talaud. Interviewed on 11 November 2002 in Pantukan, Davao Oriental by Charmaine Pastoral. ↩
Ernesto Mocodompis from Tahuna, Sangire Island. Interviewed at Davao City, Date of Interview 16 September 2002. Interview by  Charmaine Pastoral. ↩
"Sarapil and Kinawalan" as retold by Alex Boham. ↩
Peter Gordon Gowing, Muslim Filipinos – Heritage and Horizon New Day Publishers, Quezon City, 1979, 187-188. ↩
Herman Lamitigue from Basau, Sangihe. Interviewed on 5 September 2002 in Davao Cityby Charmaine Pastoral. It is most likely that the number of Indonesians repatriated was higher than the figures cited by Lamitegue. ↩
Simon Lambari from Salurang, Sangihe. Interviewed on 9 October 2002 in General Santos City by Charmaine Pastoral. ↩
Yoseph Yahnis and Ruperto Pangilawang, Filipino Sangils residing in General Santos  City. Interviewed on 10 October 2002 by Charmaine Pastoral. ↩
Yunus Lahendo from Tabukan, Sangihe. Interviewed on 11 June 2003 in Margus, Sarangani by Charmaine Pastoral. The months mentioned by Lahendo fall during the habagat season (southwest monsoon) in which the wind blows from the southwest, favoring travel northward.  According to local fishermen, though, they avoid travel during these same months of June, July, and August because of the turbulent waves. Interview with Leonardo Papacoy, Samal Island, 24 January 2004. ↩
Gloria de Arce Gabudao. Filipino-Sangil-Lumad. Interviewed by Charmaine Pastoral around August 2002  See Appendix 3. ↩
Alex Sale born in Samal Island, of Talaud parents. Interviewed on 14 November 2002 by Charmaine Pastoral. ↩
Abner Tulas from Salurang, Sangihe. Interviewed on 4 April 2002 in Davao City by Gisselle Dano. ↩
 Jackson Mocodompis from Sangihe. Interviewed on 5 April 2002 in Davao City by Giselle Dano. ↩
Marcos Marudato, born in Glan of Indonesian Sangil parents. Interviewed in Davao City by Giselle Dano in April 2002. ↩
There is no data as to the number of Indonesians who still come to southern Mindanao to look for a better life. ↩
Alex Boham. Date of birth, 3 April 1950; place of birth, Kelasuga Utara, Sangihe Islands,  Indonesia; date of interview, 19 May 2002. Interviewed by Giselle Dano. ↩
Pilipus Alase. Date of birth,  4 February 1925; place of birth, Karatogn, Talaud Islands, Indonesia; date of interview, 11 November 2002. Interviewed by Charmaine Pastoral. ↩
Paraho is paraw in most Philippine languages. ↩
Josep Tahumoa. Date of birth, 5 October 1945  place of birth , Manado, Indonesia; date of interview, 12 November 2002. Interviewed  by Charmaine Pastoral. ↩
Herman Lamitegue. Date of birth, 5 January 1930; place of birth, Basau, Sangihe Isalnd, Indonesia; date of interview, 5 September 2002. Interviewed by Charmaine Pastoral. ↩
For De Arce's Indonesian wife, see Gloria de  Arce's account. ↩
Perhaps this refers to a boat with the naga (serpent) design? The boats around this region are usually depicted as having curved prows. ↩
Delu, perhaps a cognate of dalugdog in Cebuano? ↩
Mekila, perhaps a cognate of kilat in Cebuano? ↩
Perhaps the Maguindanaos bombarded the Island with their lantakas, producing thunder and lightning? ↩
Jasmine Tolas Tatais. Date of birth, 30 October 1951; place of birth,  Salurang, Sangere Island; date of Interview, 18 September 2002. Interview by Charmaine Pastoral. ↩
Erliansi Rakinaung-Gampamola. Date of birth, 22 December 1942;  place of birth: Tamako, Sangihe Island, date of Interviewed, 16 October 2002. Interviewed by Charmaine Pastoral. ↩
Kamini Kitaban. Date of birth, 24 April 1924; place of birth, Madaum, Tagum, Davao del Norte; date of interview, 10 January 2002. Interviewed by Charmaine Pastoral. ↩
Literally grandfather, but this could mean ancestor, as the informant says the incident about his lolo occurred during the pre-Spanish period. ↩
The sea pirates usually killed the persons they caught at sea, or else they turned them into slaves. This case of the pirates releasing the men and retaining the lolo does not seem to accord with the traditional practice of the sea pirates. ↩
A delicacy made of fried thin rice noodles shaped like a small football. ↩
Ernesto Mokodompis. Date of birth, 2 September 1913; place of birth, Kolongan, Tahuna, Sangihe Island; date interviewed, 16 September  2002 in Davao City. Interviewed by Charmaine Pastoral. ↩
Marcos Marudato. Date of birth, May 7, 1957 in Glan, Sarangani. Interviewed in Davao City by Giselle Dano in April 2002. ↩
 Source:  Kenneth R. Maryott, ed. Nelman Mangamba and Christina Pasaribu, trans. Manga wekeng asalu tau Sangihe (Stories of the origins of the Sangir people) The Committee for the Promotion of the Sangir Language, Davao, 1995, 105-110. ↩
Yusuf Mante Ganawan, Filipino Sangil, from Camalian, Jose Abad Santos, Davao City. Interviewed on 28 October 2002 by Charmaine Pastoral. Buisan appears in Dutch records as king of Candahar or Kandigar. ↩
Herman Lamitegue, Interviewed on 5 September 2002 in General Santos City by Charmaine Pastoral. This Buisan is different from the Buisan of Maguindanao who was the father of Sultan Kudarat. ↩
"The Story of Mokodaludu" told by Haremson E. Juda.  Stories of the origins of the Sangir people Kenneth R. Maryott, ed. Nelman Mangamba and Christina Pasaribu, trans. The Committee for the Promotion of the Sangir Language, Davao, 1995, 99-104. ↩