The typical puzzle for most Southeast Asian countries now is restarting the economy while living safely with COVID-19. The experience of 2020's success story, such as Vietnam, shows that the victory in containing several first waves of COVID-19 does not guarantee the smooth "exit strategy", namely to resume the economic and social activities in the new normal.
From the outbreak of COVID-19 in early 2020 until April 2021, Vietnam's death rate is the lowest in the world. Vietnam has experienced four outbreaks of COVID-19 and surpassed 10,000 cases on June 12. According to WHO, from January 3, 2020 to July 2, 2021, there have been 17,727 confirmed cases of COVID-19 with 81 deaths. International media has hailed the country to contain the pandemic through early and decisive actions, a whole-of-society approach, and information transparency.
There are six key characteristics of Vietnam's low-cost strategy in responding to COVID-19. First, investing in public health system infrastructure (e.g., emergency operations centers and surveillance systems) will give countries a head start. Vietnam has learned lessons from SARS and bird flu. Second, early action such as closing borders and wearing masks to testing and social distancing will help limit community spread before it gets out of control. Vietnam is among the few countries to issue strict control of all passengers returning from abroad, strengthened supervision in the community in early 2020. Third, thorough tracing will help facilitate a targeted containment strategy. Instead of high-cost, mass-testing strategy adopted in most advanced economies, Vietnam focused on low-cost strategy with extensive contact tracing, isolation, and quarantining, up to third-tier contacts. Fourth, isolation based on exposure, rather than isolating only symptomatic individuals, can reduce transmission of both asymptomatic and symptomatic individuals. In particular, mandatory testing and isolation for international travelers is an effective policy. Fifth, a clear, consistent, and serious narrative is important during epidemic prevention. The Government communicated details on symptoms, protective measures, and testing sites in mass media and introduced the mobile phone app "Bluezone" for digital social tracing and communication. Sixth, a robust whole-of-society approach engages multi-disciplinary, multi-sectoral stakeholders in decision-making and encourages engagement with relevant solutions.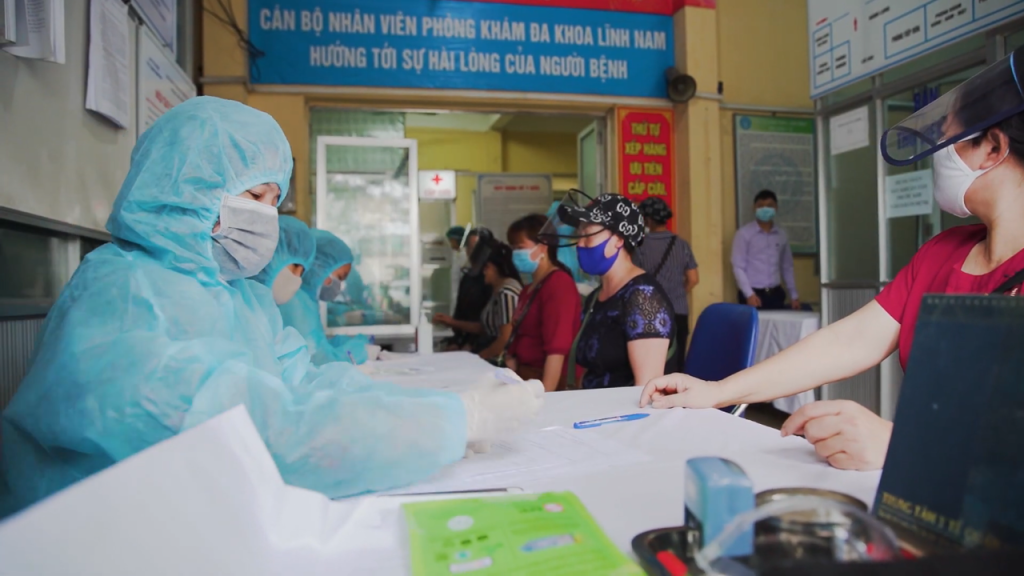 The delta variant proved itself as the game-changer. A study in Nature showed that viral load is roughly 1,000 times higher in people infected with the Delta variant than those infected with the original coronavirus strain. According to WHO, the variant spreads about 55% faster than the alpha strain first identified in late 2020. Until October 6, 2021, there have been 818,324 confirmed cases of COVID-19, with 19,979 deaths in Vietnam. Many provinces have to imposed strict lock-down. The GDP has decreased by 6,17% in the third quarter and therefore only increased by 1,42% in the first nine months of 2021.
The low rate of vaccination in Vietnam is one of the critical explaining factors. According to Ourworldindata, among the 20 most populated countries around the world (Vietnam ranks 15th), until September 30, only five countries had vaccination rate over 50%, namely China (80,05%), United States (63,73%), Brazil (62,86%), Japan (70,73%), Turkey (63,31%) and Germany (67,52%). Most developing and populous countries without self-producing vaccines face difficulties in promptly acquiring enough vaccines for the population.
However, Vietnam has been active in finding the way out. Given the shortage of COVID-19 vaccine supply globally, Vietnam's "vaccine diplomacy" has been on full display at all levels. With relentless efforts from a wide range of diplomatic activities, Vietnam has been able to secure the supply of over 100 million doses of COVID-19 vaccines. In addition, the foundation for recovery has not been shaken. The macroeconomic foundation is stable, major balances are still maintained, and inflation is low. The budget revenue reaches more than 80% of the currency market and the exchange rate, ensuring income and expenditure for epidemic prevention and social security. The newly registered capital of foreign direct investment in Vietnam increased 4.4% in the first nine months of 2021, reaching 22.15 billion USD.
In this context, instead of a "zero-COVID" strategy with "on and off" lock-down, Vietnam is moving to a "live with COVID-19" high-flexibility strategy that is more adaptable given the high infectious delta variant. The Government of Vietnam is finalizing the strategy to live with COVID-19 safely and flexibly while control effectively the pandemic outbreak. The decisive factor will be the speeding up of the import of vaccines, implementing vaccine diplomacy, effective deployment of vaccination with priorities. More innovative measures must be in place to ensure the resilience of economic and production centers and prevent the disruption of the supply chain, logistics and social services. In addition, it is essential to provide adequate support to the front-line health staff and mobilize more non-public medical resources for epidemic prevention and control. The social consensus, better public awareness, and changing people's behaviors and habits will also be crucial to ensure the new strategy's success.
Vietnam is not the only country in Southeast Asia changing the COVID-19 strategy. Singapore has implemented a plan with the roadmap of "living with COVID-19" thanks to a high vaccination rate of over 80%. In August 2021, Thailand's National Communicable Disease Committee shifted the country's strategy to  "learning to live with COVID-19". The COVID-19 pandemic is unprecedented, and no "playbook" is already at hand in dealing with the pandemic. Therefore, the capacity to be adaptive and flexible, the solidarity and consensus of the whole society with the decisive role of government, and high awareness of the people have proved to be indispensable in coping and re-emerging from the pandemic. Although uncertainties remain, the trend of shifting the strategy from zero-COVID to "live with COVID-19" in regional countries such as Vietnam, Singapore, and Thailand is prevailing.
Le Trung Kien
Assistant Director-General, Director of Center for Security and Development Studies, Institute for Foreign Policy and Strategic Studies, Diplomatic Academy of Vietnam
Disclaimer: The views and opinions expressed in this article are those of the authors and do not necessarily reflect the official policy or position of any organization.
Reference:
Worldometers, Population by country, https://www.worldometers.info/world-population/population-by-country/
Ourworldindata, COVID vaccination by country, https://ourworldindata.org/COVID-vaccinations?country=OWID_WRL
Nature (2021), "How the Delta variant achieves its ultrafast spread", https://www.nature.com/articles/d41586-021-01986-w
Theresa Waldrop (2021), "Why the Delta variant is spreading so much faster than other coronavirus strains", CNN, https://edition.cnn.com/2021/07/21/health/delta-variant-COVID-19-explainer/index.html