On the evening of August 16, 2020, at Democracy Monument on Rajadumneon Avanue, a huge range of people assembled on the street to protest against Thailand's military dominated regime. The demonstration was led by university and secondary school students. They were joined by artists, rappers, comedians, writers, cartoonists, and singers, as well as office workers, young freelancers, industrial and petty trade workers, academics, and even the former red-shirts from Isan provinces. On the main stage, there were lively performances and speeches by youth activists. On the occupied street, however, there were even more diverse and creative activities demanding not only democracy but also expressing political demands related to social issues, everyday life, and the future of the country.
The recent pro-democracy demonstration of the "Free People" (ประชาชนปลดแอก) allied movement can be considered as a landmark in understanding Thailand's contemporary politics. Reminiscent of 1990s when street protests occupied the political scene, the protests breaking out at the Democracy Monument in the heart of Bangkok, various universities and schools, as well as public venues in many provinces across the country suggest that social movements once again might play a role in demanding progressive changes amidst the country's democratic regression of the past decades.
During the 1990s, a range of movements including farmers organizations, slum activists, anti-development campaigners, pro-labour activists, and environmentalists contributed to and built upon openings in Thailand's political space. The convergence between these movements and environmental politics in particular suggested that such movements not only sought redress to specific environmental harms, but also contributed to the production of a deeper democracy.
Given the diversity of public campaigns, movements, activists, and participants, it is curious that environmental politics has been so marginal to the current protests. This is especially true among young activists whose engagement with environmental politics and development-related issues is limited. This is even more surprising given the centrality of both developmental and environmental issues in previous eras of democratic mobilization. What happened to environmental movements and where do they sit in the making of a future democracy in Thailand?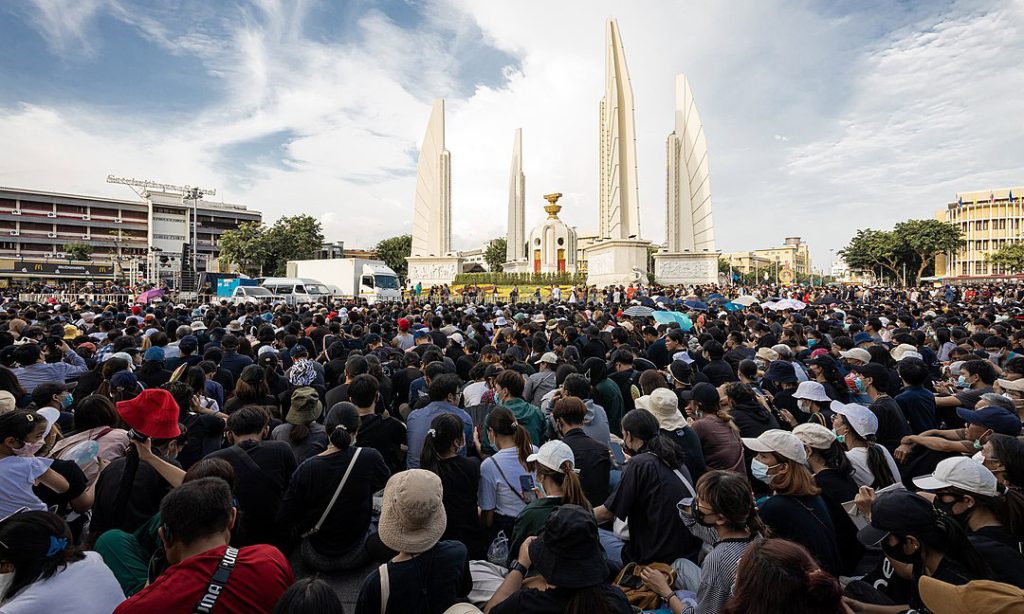 From Free Youth to Free People
Free People is an anti-government political movement focusing on the promotion of democracy, human rights, transparency and other social issues. The movement directly criticized the incumbent government led by General Prayuth Chan-ocha, whose dubious election, parliamentary manipulation, inefficient administration, and lack of transparency have marked its legitimacy as questionable at best.
The movement started with a small group of students, then called "Free Youth", in late 2019. Leaders from Free Youth campaigned for rights and freedoms. The movement received wider attention and support through social media outlets like Twitter and Facebook. Although initially a student-centered movement, it was later joined by people from different walks of life broadening its base and ambitions. The Free Youth then became Free People to encompass a diverse inclusive alliance of movements focusing on what they call "3 Demands 2 Standpoints and 1 Dream":
The Three demands are as follows:
The government must 'stop harassing the people' for exercising democratic rights and freedoms.
The government must allow the process of drafting a new constitution based on the will of the people.
The government must 'dissolve Parliament' to allow people to once again express their will through a free and fair election.
Their two standpoints are: (1) to oppose any attempt for coup d'etat and (2) national government formation to overcome political impasses and the lack of government legitimacy.
Lastly, their possible dream is to have a true constitutional monarchy. Such a dream, according to the movement, can be realized under the constitutional process in a democratic system in which people own absolute sovereignty.
While Free People focuses on political change, their campaigns do not limit themselves to institutional politics. Rather, the lively movement has merged a range of social missions in one public space. Walking through the demonstration, one notices people campaigning for a variety of socio-political issues including, LGBTQ rights and equal marriage, women's right to abortion and sexual consent, and educational reform. Muslim youth have used this platform to demand that transparency and cultural sensitivity be included within security policy in Thailand's southernmost provinces. Labour movements have highlighted unfair working conditions and demanded welfare. Members of the group have also emphasized the importance of free, indepedent media in a democratic society.
Within this diverse context the limited role of environmental politics is striking. What does the absence of these movements tell us about the role of environmental politics in a future democratic Thailand?

Democratic and Environmental Tensions
The lack of meaningful and active engagement between the present generation of youth and the environmental movements can be understood from several related circumstances.
During the 1990s, environmental politics was led by NGOs through alliances with development-affected villagers. Most environmental politics were locally driven and shaped by ideas of preserving "community culture." Through numerous policies, Thaksin Shinawatra's government incorporated the core constituencies of these groups in a constructive relationship with his national government, which emphasized nationwide improvement of the economic opportunities, education reform, villager livelihoods, and the management of natural resources in rural areas. This agenda drew villagers from their previous relationships with NGOs activists and inspired dissatisfaction among some NGOs, aligning them with the urban middle-class, who contributed to the political movements against Thaksin that led to the 2006 military coup.
The transformations that accompanied Thaksin's administration during the early 2000s led a new generation to see the opportunities democratic politics and policies could provide. This could be seen in terms of education, technology, the creative economy and other social welfare. It also revealed the fragility of the country's political structure. Increasingly, for many Thais, especially in this younger generation, democracy supplanted situated environmental struggle or community culture.
At the same time, the advocacy deployed by environmental NGOs and rural villagers seemed at a distance from the concerns and contexts of young people in Bangkok and even in the provinces like Chiang Mai, Khon Kaen, Ubon Ratchathani where some protests were held. Thailand's environmental NGOs based their activities in rural areas with exclusive members and alliances. Rural villager mobilization was one of the core strategies of these movements since the 1990s. Their environmental knowledge production and contestation have been innovative, but targeted existing governments and supporting local struggles rather than communicating environmental issues to a wider audience or engaging with the larger structural issues that link democratization and environmental protection. In short, environmental movements largely failed to render their political advocacy visible to the eyes of people in Bangkok and relevant to this younger generation of activists. The young people protesting were born during 1995-2005. They grew up in an era marked by democratic aspiration, street protest, and military coups. Most of the young protestors have come of age under this military government.
For the past ten years, the remaining environmental NGOs in Thailand have found themselves in a difficult situation where the number of young people who are interested in sustaining and supporting their environmental mission seems to be limited. However, this does not mean that this generation do not care about environmental issues. However, if the environmental movement is to become more politically relevant in this new era of politics, it will need to rethink its strategies both in terms of its wider alliance-making and well as its relations to the larger political sphere. Perhaps, as Bencharat Sae Chua's piece in this collection shows, environmentalism can no longer remain apolitical.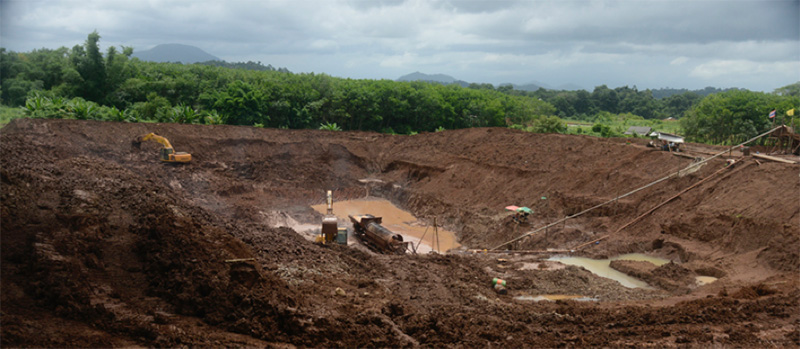 Future Convergences?
Despite these shifts, some of the new movement's leaders and young activists have actively worked with environmental issues. Panupong "Mike" Jadnok has worked against the extension of Map Ta Phut port and Eastern Economic Corridor in Rayong. Other young activists from Khon Kaen, Songkhla, and Satun have criticized the government's environmentally-related policies such as reforestation and villager relocation, mining concessions, the Comprehensive and Progressive Trans-Pacific Partnership (CPTPP), as well as a plan to dig a canal in the South. The engagements of these leaders in the pro-democracy movement, however, has been on a personal basis rather than as a movement. Unlike during the height of the social movements during the 1990s where the environment-related movements––anti-dam groups, landless farmers, slum dwellers, forest and highland-based ethnic groups and rural villagers affected by development projects––were at the forefront of the political movement, in 2020, environmentalism, as a movement, seems to shy away when it comes to the wider participation with the pro-democracy demonstrations.
Of course, not all environmental movements were absent from the scene. On August 21 2020, a few days after the demonstration at the Democracy Monument, Greenpeace Thailand released a statement in support of the movement. According to the Greenpeace, "genuine democracy is both a principle and a goal which is necessary for driving to find a way out of the crises and environmental challenges facing Thai society." Greenpeace noted that "healthy democracy" is an essential condition of ensuring the public's environmental and political rights to access to health services, education, food, fairness or other fundamental rights which they perceived as a "healthy environment".
Assembly of the Poor (AoP) also released statements in support of the Free People propositions, after Baramee Chairat, the AoP's key leader, was harassed and charged by police officers. The AoP decided to join the student-led democracy rally, making their long-standing, but recently invisible campaign "edible politics, a democracy where the poor belongs" part of the recent political conversation. Besides its key leader Baramee, and the above-mentioned statement, there is, however, no clear strategy for how the AoP would actively take part in the rallies or what its larger strategic role might be in a wider democratic movement.
Another separate event happened on August 31. Parit "Penguin" Chiwarak and Panupong Jadnok, two of the leading youth leaders, visited villagers and activists who were protesting in front of the Government House against the state's plan to build Muang Takua dam in Phatthalung, in southern Thailand. The visit was brief and mostly to provide "spiritual support" (ให้กำลังใจ) to the rallying protesters. While this is a good symbol of recognition, it also reveals the distance between the existing environmental movement and the current political activism.
The case of anti-Muang Takua Dam is a good representation of the long disengagement between Thailand's environmental movements and the process of national democratization. The villagers and activists came to Bangkok to protest over their local issue, but did not joint the wider protests despite the fact that there are a wide range of allied groups joining hands in demanding changes from the current government. The anti-dam group sought to act separately without participating in this wider political alliance.
The demonstration of environmental groups mentioned above is only one example of the wider but uncoordinated environmental movements of the past several years under Prayuth's authoritarian regime. Other examples are the movements against coal-fired power plant in Krabi, the dam on the Mae Wong river, ore mining in Loei, the Chao Phraya riverside promenade project in Bangkok, several Special Economic Zones, and other mega-infrastructure projects. The crusade against such projects has become more difficult since the military government uses claims of peace and stability to ban any assembly of more than five people. Thus, protestors have become accustomed to distancing their local movements from national political struggles. The results are that in this moment of critical upheaval, pressing environmental issues are less visible and less central than before.
Coda: A Watershed of Thai Democracy?
Two months after the assembly at Democracy Monument on Rajadumneon Avanue, the youth-led protests are still active and have been expanding. The plight for democracy in Thailand is in a crossroads. Years of authoritarian governments have partitioned environmental and democratic politics. Thus, considering their convergence or divergence in this current movement offers a glimpse of both the political future of the country but also shows how environmentalism may be dealt with in the many years to come.
Jakkrit Sangkhamanee
Assistant professor in anthropology at the Faculty of Political Science, Chulalongkorn University
Banner Image: Bangkok, Thailand, October 2020. Students and people sit and stand in the middle of the street to protest Rungkh / Shutterstock.com