Title: Thailand: Man of Contradictions: Joko Widodo and the struggle to remake Indonesia
Author: Ben Bland
Publisher: Penguin (2020), 192 pages
There are two ways to deal with the fact that, six years into his term as president of Indonesia, Joko Widodo (or Jokowi) remains 'an enigmatic figure' whose confidantes 'struggle to explain what has motivated him throughout his political career', as Ben Bland writes in his new book, billed as the first English-language biography of its subject.
The first is to conclude that there's just not much there behind the façade—that a crude but efficient way of understanding Jokowi is as a lucky simpleton, blessed with just enough likeability and ambition to elevate himself among his rivals at just the right time. The other path, and the one this book takes, is to assume that behind Jokowi's inscrutable exterior sits a 'bundle of contradictions' in his political character, as a former Jokowi cabinet minister tells Bland. This theme of paradox runs through this brief biography, which in its 146 pages covers Jokowi's pre-presidential career, his rise to national power, and his approaches to economic policy, foreign relations and democracy.
Bland's characterisation of Jokowi's 'contradictions' will be familiar to anyone who has followed the president's career via the English-language media: a product of the decentralised post-Suharto democracy who has done more than any of his democratically-elected predecessors to undermine democratic norms; an outsider who reflexively defers to the interests of the establishment; a self-made entrepreneur who has promoted state enterprise and protection; a heterodox Muslim who has sometimes helped legitimise Islamic chauvinism. The book offers little fresh information on Jokowi's early life or his political career before he became a national political figure, with Bland drawing largely, though not uncritically, on secondary sources (especially Jokowi's two ghost-written autobiographies) when discussing this period.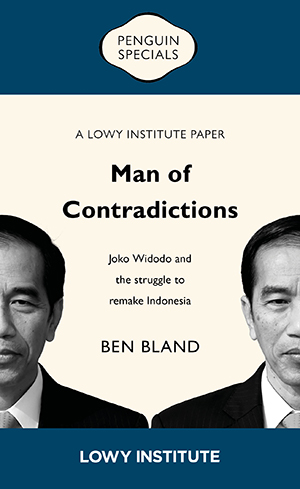 Man of Contradictions is at its most engaging where Bland draws on his experience as a journalist and think tank analyst to paint a damning picture of Jokowi's leadership style. The overall impression is of a talented local politician who was promoted by the voters to a job he wasn't well prepared for, and which he oddly enough still hasn't entirely grown into. Whereas his predecessor Susilo Bambang Yudhoyono was a cautious decision maker obsessed with process, Jokowi is the opposite: Bland writes that 'Jokowi runs the palace more as an imperial court than a chief executive's office, leaving ministers and advisers guessing as to his intentions and, not infrequently, taking big decisions on a whim.'
In analysing Jokowi's policy agenda, Bland echoes what analysts concluded early in his presidency: that he has an overriding focus on achieving economic modernisation along developmentalist lines, with everything else expendable if its instrumentality to that larger economic goal isn't obvious. Such expendable items include Indonesian democracy itself, whose decline has accelerated quickly on Jokowi's watch. Despite his recent embrace of Suharto-era organicist rhetoric, Bland doubts that Jokowi is himself an authoritarian ideologue, blaming the current democratic regression on a grim symbiosis between Jokowi's paranoia about his hold on power and the authoritarian inclinations of the military, police and bureaucracy.
Having established that Jokowi is indeed a 'bundle of contradictions', much of the book's success hinges on explaining why that appears to be the case. Bland offers the argument that 'Jokowi's stance reflects the contradictions of Indonesia's post-independence history'—between Islam and pluralism, democracy and authoritarianism, economic protection and openness. This is accurate but banal, and reflects missed opportunities for precision about what makes Jokowi distinctive in the Indonesian context. Every Indonesian president has reflected 'the contradictions of Indonesia's post-independence history'; if Jokowi has been uniquely effective as a cipher for diverse and confounding political forces, it's perhaps because he's brought a unique combination of ideological vacuity and administrative incompetence to the job.
The book passes up opportunities to engage in some overdue armchair psychology with respect to its subject, who is unique among Indonesian presidents in how little he has done to cultivate and empower a cadre of personal loyalists. Bland observes that Jokowi has instead serially formed alliances with power brokers and technocrats only to sideline them as soon as they've outlived their usefulness—as an Indonesian researcher put it to me, 'for Jokowi loyalty works upwards and maybe sideways, but never downwards'. It's not clear that such loyalty, where it exists, is contingent on anything more than mutual (and temporary) expediency; indeed, one wonders whether any of Jokowi's peers really like or respect him, and whether he in turn harbours any neurosis with regards to their estimation of him. Any insights into what keeps Jokowi so aloof, and the dynamics of his key relationships, would have been the stuff of revelatory political biography.
Overall, though, Bland has produced a critical but fair analysis of Jokowi's presidency, one with the right mix of detail and context to be valuable to readers in government, business, and the media. Some of them are overdue for a reality check about Indonesia's 'success story' democracy, its economic prospects, and its readiness for a bigger role in international affairs. This book provides it.
Man of Contradictions succeeds where it does because of Bland's knowledge of Indonesia and the access he had to its ruling elite as a former Financial Times correspondent. It's often remarked upon by academics (only sometimes ruefully) that many of the books that best encapsulate key moments in Indonesian history for international readers have been written by journalists, from Adam Schwartz's A Nation in Waiting: Indonesia in the 1990s to Richard Lloyd Parry's In the Time of Madness: Indonesia on the Edge of Chaos, or David Jenkins' Suharto and His Generals: Indonesian Military Politics, 1975–1983.
The point here is that the scope for books like this to be researched and written might be closing fast thanks to the COVID-19 pandemic, the Indonesian government's growing impatience with the critical opinions of foreigners, and the collapsing ability of media organisations to support foreign correspondence. If that's the case, then everybody who for professional or personal reasons wants to understand Indonesia better will be worse off for it.
Liam Gammon
Liam Gammon is a PhD student at the Department of Political and Social Change at the Coral Bell School of Asia Pacific Affairs, ANU.