Title: A Life Beyond Boundaries: A Memoir
Author: Benedict Anderson
Publisher: Verso Book (2016), 205 pages
Known for his trailblazing contribution to nationalism studies, Chinese-Born 1 Benedict Anderson enjoyed a distinguished intellectual career that knew no boundaries – national or otherwise. In his suitably titled memoir 'A life beyond boundaries', 2 Anderson recounts his scholarly journey that started off as a teaching assistant at the Department of Government in Cornell University in 1958. He went on to become a Southeast Asianist and later, to his own surprise, earned global renown as a theorist of nationalism. Reflecting back on this journey, he acknowledges the role of 'luck' as well as his ability to seize fleeting opportunities as instrumental to his achievements.
The book provides a useful overview of the history of area studies and Southeast Asian studies in American universities. Area studies, writes Anderson, emerged post-World War II coinciding with America's rise to the superpower status. This newfound position necessitated America to better understand the world to secure its interests and hence, a massive investment followed to institute area studies in universities. He notes that state institutions such as the State Department, the CIA and the Pentagon, and non-state institutions such as Ford and Rockefeller Foundations were the driving forces behind the development and expansion of area studies in the US.
Southeast Asian studies came into being as a specialist field under the aegis of area studies in the US. 3 In Cornell, Anderson came under the influence of Indonesianist George Kahin and decided to follow the latter's footsteps to become a professor. No wonder Anderson did his doctoral research in Indonesia where he first arrived in late 1961. He obtained a PhD in 1967 and his thesis focused on the Japanese Occupation of Java and the ensuing Indonesian National Revolution. Remarkably, he maintained a lifelong relationship with the country to the point that he thought himself as an Indonesian nationalist and considered Indonesian as his second language.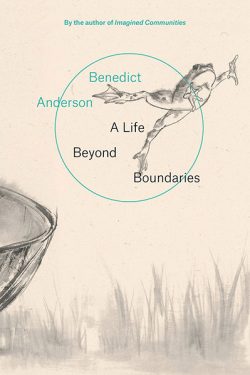 Written in the dusk of his life, 4 Anderson offers some handy scholarly pointers for young people in the book. Discussing the limitations imposed by disciplinarization of knowledge under various academic departments inside universities, he urges young scholars to read across the disciplinary divides to maintain a broad perspective. Furthermore, he suggests them to go beyond the conventional practice of one-country specialization and learn more about other countries to acquire a comparative perspective.
The real significance of the comparative perspective dawned on him only after he was kicked out of Indonesia in 1972 for being critical about the regime of General Suharto. 5 However, his expulsion turned out to be a blessing for him. Finding himself cut off from Indonesia, Anderson moved to Thailand lured by its recent democratic effervescence which had created a conducive environment for research. His experiences in Thailand prompted him to rethink his settled assumptions and ideas about Indonesia in a new light. He affirms that it was his fieldwork experiences in Thailand and Indonesia that enabled him intellectually to write his most famous book 'Imagined Communities' 6 published in 1983.
While doing research in the Philippines on anarchism and anti-colonial movement, Anderson realized that he had unconsciously taken nation-state as a unit of analysis in his earlier works which precluded him from seeing global connections and solidarity extending beyond nation-states. Anderson therefore sought to overcome the nation-statist framework in his 2005 book 'Under three flags: Anarchism and the Anti-Colonial Imagination' wherein he writes about local nationalisms and global anarchism between 1861 and 1901 and thereby, bringing to fore the sphere of communication that connected activists located in different national contexts.
Any review of this memoir would perhaps be incomplete without considering its front cover. The book's front cover curiously portrays a frog jumping out of a coconut half-shell. The idea comes from an Indonesian and Thai proverb about a frog stuck in a coconut half-shell. The frog over time comes to believe that the space inside the coconut half-shell constitutes the entire universe. For Anderson, narrow-minded nationalism (that is, nationalism without any sense of internationalism) renders one the proverbial frog. The front cover thus depicts the frog transcending its parochialism by venturing outside the familiar confines. He exhorts young scholars to similarly defy the taken-for-granted boundaries within which they are located in order to engage with the wider world. Anderson's memoir is, to say the least, inspiring and fascinatingly captures his making as a great scholar.
Reviewed by Binit Gurung
Binit Gurung is an IIndependent Researcher based in Kathmandu, Nepal.