T
he first law recognising same-sex relationships was enacted in the Netherlands in 1979, extending survivor tenancy rights to rent controlled apartments. The first law setting up a registration system for same-sex couples came in Denmark in 1989, which granted a package of rights in parallel with, but outside of, marriage. The first law opening marriage to same-sex couples was enacted in the Netherlands in 2001. The Dutch lead in gay marriage has since been followed in Argentina, Belgium, Brazil, Canada, Denmark, Finland, France, Iceland, Luxembourg, Mexico, New Zealand, Norway, Portugal, Slovenia, South Africa, Spain, Sweden, the United Kingdom, and Uruguay – as well as in most states in the United States, with a decision with nationwide implications for the recognition of same-sex marriage currently pending in the US Supreme Court. In Asia the only governmental recognition of same-sex relationships to date has been in immigration practices in Hong Kong, Singapore and Thailand (and probably some other jurisdictions), where the same-sex partners of foreign individuals entering work in embassies, universities, or businesses are able to gain residency rights on the basis of the relationship.
 In much of the world, the issue of same-sex marriage (or relationship recognition) has now become the defining issue for legal equality and human rights for lesbians, gays, and transgendered individuals. It is a clear and simple demand that presents a positive image of same-sex couples, who are now regularly depicted in media as parents raising children. Transgender individuals are now also increasingly free to marry, without concern for questions of sex or gender. We now have an extensive literature on gay marriage in the West. What has been happening in Asia? Here I review recent developments in Vietnam and Thailand.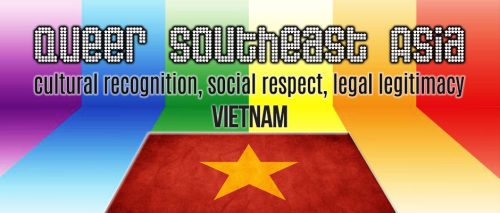 Vietnam
 In 2012, the government of Vietnam began the process of reviewing the civil code on marriage and family. Under consideration were eight separate matters, including heterosexual cohabitation, same-sex relationships, surrogacy, and separation. 1 In July 2012, the Minister of Justice said it was time to consider a legal framework for same-sex couples – giving very practical reasons for such a reform:
 [T]he courts do not know how to handle disputes between same-sex couples living together. The new law would provide rights such as owning property, inheriting and adopting children.
"I think, as far as human rights are concerned, it's time for us to look at the reality," Justice Minister Ha Hung Cuong said Tuesday [24 July 2013] in an online chat broadcast on national television and radio. "The number of homosexuals has mounted to hundreds of thousands. 2 It's not a small figure. They live together without registering marriage. They may own property. We of course, have to handle these issues legally." 3
 In May the [Justice] Ministry sent out a consultative letter to concerned agencies to seek their opinions on same sex relationships. The letter described same-sex marriage as being inevitable according to human rights principles. However, it also said that "given the sensitivity of homosexuality and unforeseen consequences of same sex marriage on cultural and traditional family values, it is too early for Vietnam to legalise same sex marriage."
The representatives from the Ministry of Justice expressed their desire to have a dialogue with LGBT communities in Hanoi and Ho Chi Minh City, organize meetings between LGBT groups and same-sex relationship experts from Vietnam and other countries, and educate the public on same-sex relationships. 4
 The Committee of Social Affairs of the National Assembly invited LGBT activists to make a presentation on same-sex marriage on 8 October 2012.
 Professor Kees Waaldijk, who holds a chair in sexual orientation law at the University of Leiden in the Netherlands and Professor M V Lee Badgett, an economist at the University of Massachusetts, Amherst, in the United States, were invited to Hanoi in December 2012 to discuss international patterns on the recognition of relationships and the extension of marriage to same-sex couples. Both had written widely on the issues, and they spoke at workshops organised jointly by the Vietnamese Government and the United Nations Development Programme.
 In April 2013, the Deputy Minister of Health spoke out, with Thanh Nien News Agency reporting his statement that, "gay people have the same rights as everyone else to love, be loved and marry." Several days earlier, the Ministry of Justice had announced that fines would no longer be imposed on same-sex couples who held (non-legal) "marriage" events. 5
 The government's proposals on legislative reform were made public in mid-2013, and included extending the rights and obligations of marriage in relation to property and children to cohabiting heterosexual couples and, in a separate section, to cohabiting same-sex couples. On 17 October 2013, representatives of more than 30 social organisations and many LGBT individuals and their allies attended a seminar in Hanoi to release three documents which had been sent to the deputies in the National Assembly. One source reported,
 The documents include a letter of social organizations, a letter of the Parents, Families and Friends of Lesbians and Gays (PFLAG) Vietnam and a petition gathering 8,300 signatures of people who support same-sex marriage. 6
Hundreds gathered in a Hanoi park to watch the symbolic marriage of two same-sex couples, with the public celebration including lots of rainbow flags and balloons, as well as 60,000 "likes" on the Facebook pages of the couples. 7
 Included in a set of revisions to the Constitution submitted in December 2013 was the rewriting of the section on the right to marry. Instead of the wording that "men and women" have the right to marry (phrasing that had been interpreted to restrict marriage to opposite sex couples), the proposed new wording simply said "men, women" have the right to marry. In this, a possible obstacle to legal same-sex marriage was explicitly removed without, it seems, any particular discussion or attention. However, this did not, in itself, extend to actually legally instituting marriage between persons of the same sex.
On 19 June 2014, Vietnam's National Assembly rejected a number of the constitutional reforms proposed by the government, with legal recognition of same-sex cohabitation being dropped. Furthermore, recognition of heterosexual cohabitation was limited to issues relating to children (dropping issues relating to property). Surrogacy was strictly limited to a non-commercial arrangement with a blood relative (such as a sister or a cousin). While the provision that banned (non legal) same-sex "marriage" events was dropped, new wording was added that stated, "the state does not recognize same-sex marriage."
Thailand
In 2012, long-time Thai gay activist Natee Teerarojjanapongs applied for legal registration of a marriage licence with his partner. When the licence was refused, he took the issue to the National Human Rights Commission of Thailand, asking the Commission to initiate proceedings in the Constitutional Court. Dr. Tairjing Siripanich, the Human Rights Commissioner who handles LGBT issues, accepted the complaint, stating,
 In [a] human rights point of view, a decision to live together should be allowed by law whatever sex the persons had. 8
However, rather than proceeding to court, the issue was taken up by the Thai parliament's Committee on Legal Affairs, Justice and Human Rights, which nominated three representatives of LGBT organisations to work with them. Five seminars and hearings on the matter were held by the Committee in different parts of the country, the last taking place at the Thai parliament building in Bangkok on 19 April 2013. The Committee member charged with drafting a bill framed in light of the consultations was Wirat Kalayasiri, perhaps the leading legal figure among the then opposition Democratic Party members of parliament, and head of the Party's working group on legal affairs. 9 In the drafting, Wirat worked with the Ministry of Justice.
The result was draft legislation extending the rights and obligations of marriage to same-sex couples through a registration system of "civil unions". The draft said that all the rights and obligations of marriage would apply, mutatis mutandis, to same-sex couples who registered. The age of eligibility to register a civil union would be 20, the voting age, rather than 17, the minimum legal age for marriage between men and women. No provisions dealt with custody, access, or adoption of children.
However, no political party endorsed the civil union proposal, raising the question as to how it would get onto the parliamentary agenda. To do so would need endorsement by 20 sitting members of parliament or, alternatively, 10,000 signatures for a citizens' initiative. The dissolution of the legislature and the calling of a general election in February 2014 ended the lobbying process around the civil unions proposal. The military coup that toppled the government of Prime Minister Yingluck Shinawatra on 22 May 2014 changed the situation yet again, with an appointed national legislative assembly now having been put in place.
After the coup, civil society critics of the parliamentary civil unions bill began a drafting process, with the aid of the Law Reform Commission of Thailand for an alternative "gay marriage" bill. This "citizens" draft has an equal age for registration and marriage of both heterosexual and same-sex couples, and does not rely on a general reference to the rights and obligations already established for marriage. Instead, rights in relation to children and to various entitlements for all couples, both heterosexual and same-sex, are expressly set out. Thailand's existing marriage law is archaic, and has unequal provisions for men and women. The civil society critics deemed this existing law to be unsuitable as a referent or basis for the proposed new civil unions registration system, under which registration would be open to all individuals, not simply same-sex couples.
As of February 2015, neither of the two alternative bills was in a final form, and neither had been forwarded to the post-coup appointed legislative body. Coup leaders have not shown an interest in LGBTI issues, but neither have they shown any hostility. Gay magazines, gay venues and civil society organisations function without restrictions under the military-installed government, which has not acted to prevent ongoing public discussions and forums on same-sex marriage. Indeed, in March 2015, a new sexual equality bill was passed by the appointed government, including anti-discrimination protection for transgenders.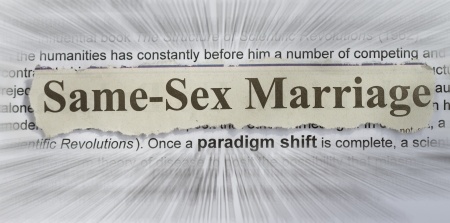 Next Moves?
At the moment, same-sex marriage initiatives have been defeated, stalled or are pending in several Asian countries, including Nepal, Taiwan and Japan as well as Vietnam and Thailand. This is the first time that these issues have received serious social and governmental attention in Asia. With the opening of marriage to same-sex couples in the Netherlands in 2001, there was a sense of the ending of a taboo. Many other countries followed the Dutch lead, some almost immediately. It is likely that there will soon be a breakthrough on legalising gay marriage in one or other Asian country, and other countries in the region are also likely to follow the leader.
Professor Douglas Sanders
Mahidol University, Bangkok
Issue 18, Kyoto Review of Southeast Asia, September 2015