Making Enemies: War and State Building in Burma
Mary P. Callahan 
Ithaca, NY / Cornell University Press / 2004 
Singapore / Singapore University Press / 2004
Why would anyone, in this age of terror and unfettered global trade, take a keen interest in the politics of Burma (or Myanmar, as the junta has renamed the country)?
Even among neighbors, Burma is neither here nor there, having one foot in the Association of Southeast Asian Nations (ASEAN) and the other buried in a turbulent history of military rule. To the rest of the world, Burma is simply one of those troubled nations that's stuck at the bottom and might remain there till kingdom come. But these are precisely the reasons why Burma is a paradox. The country is ruled by a military regime whose political power is comparable to none. At the risk of isolation in a region that has seen the rise and fall of military rule, its junta is resilient, its low threshold for dissent lasting from the colonial period to this day.
And there's more, which makes Mary P. Callahan's Making Enemies: War and State Building in Burma a must-read for any student of war and politics. A professor at the University of Washington in Seattle, Callahan combines exhaustive academic research with critical thinking and hard-nosed reporting to produce a compelling study of the Burmese military.
Theoreticians of military power have studied the institution from the vantage point of the military's structure, discipline, access to arms, and dealings with society. Samuel Huntington, in his 1957 Soldier and the State, raised the possibility of an apolitical, neutral armed forces composed of a professional soldier corps. In contrast, Morris Janowitz, in Military Institutions and Coercion in the Developing Nations: The Military in the Political Development of New Nations (1977), insisted that the military, by its very nature, is always politically involved.
The Burmese army follows neither the Huntington nor Janowitz model. Created as early as the colonial period to quell dissent, it found itself both fighting wars and building a state. Callahan says this is crucial in understanding the hard-line army of today; these war fighters saw little value in negotiating with their own people when they could simply scare them. If it proves effective in war, why not apply it in peace?
On this point, Callahan explains, the Burmese experience parallels that of the Indonesian military, which fought a protracted, brutal war for national independence, followed by campaigns against regional separatist and communist insurgents. These wars empowered Indonesian military officers, who eventually found themselves managing the state. But what about the Philippines, whose military has also battled both communists and secessionists? Despite its many years in the battlefield, the Philippine military has been unsuccessful in grabbing political power beyond acting as broker in civilian leadership transitions.
Callahan makes a convincing argument as to why a junta has little appeal in the Philippine political landscape. Unlike Burma or Indonesia, Callahan says, the Philippine state has used the carrot-and-stick approach toward insurgent movements. The state always flirts with peacefully ending a conflict through negotiations, bribery, or simply cooptation through government appointments and contracts. Callahan's thesis gives one a fuller understanding of why, when Ferdinand Marcos abandoned this approach and installed a dictatorship, the result was an adventurist army faction that later plotted a coup leading to his ouster in 1986.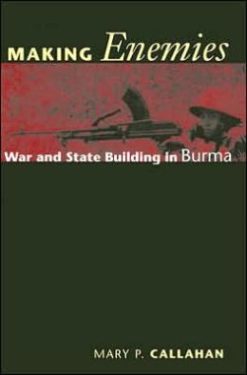 Says Callahan: "In Indonesia and Burma… states experimented with accommodationist strategies but never really budged from the purely military approach. The pursuit of this military strategy led to the development of powerful centralizing militaries and the concurrent withering of civil services and political parties that provided direct channels of input from the populace. Moreover, in both countries, it was the armies – not civilian bureaucracies – that experimented with political counterinsurgency strategies… to co-opt internal populations that otherwise might support insurgents" (205).
The book does not dwell on personalities in the Burmese army, compared, for example, to Closer than Brothers, Alfred W. McCoy's groundbreaking work on the Philippine military, which studied Philippine Military Academy cohorts and scathingly profiled some personalities in the Philippine military rebel movement. Sparing her readers the gossipy stuff, Callahan still draws a fascinating picture of the fierce rivalry between Burmese field commanders and staff officers, citing events that led to coups and counter-coups within the junta. She relates this with the cold precision of an observer, and woe to the reader who is looking for a human face or anecdotes about the military psyche. These elements could have helped popularize the book.
Callahan concludes by debunking all the myths of invincibility the Burmese military has created. In contrast to the image it projects to the world, the junta is basically held hostage by powerful regional commanders, rests on a divided military organization, and relies on officers with no combat experience and troops who act more like hoodlums than peacekeepers. This is why there is political deadlock in Burma, Callahan says – not so much because the junta remains strong, but because it has been weakened by the times, despite its success in constraining activist Aung San Suu Kyi. Callahan makes no bones about it – the future looks bleak for Burma.
Glenda Gloria
Glenda Gloria is managing editor of Newsbreak (Manila)
Kyoto Review of Southeast Asia. Issue 6 (March 2005). Elections and Statesmen