Tugu-tugu dan patung-patung telah lama terkenal di kalangan negara-negara yang berusaha untuk menjelaskan kenangan bersama. Obsesi tersebut dengan peringatan patung bahkan telah digambarkan oleh beberapa sebagai semacam 'patung mania', sebuah penyakit dari para elit nasional dan perencana kota yang tidak hanya terjadi di dunia barat, tetapi juga di berbagai tempat seperti Thailand, dengan tugu-tugu baru mulai menandai lanskap kota Bangkok pada awal abad ke duapuluh. 1 Dalam banyak hal, kegilaan ini terus menyebar – dan berkembang – dengan pembangunan taman Ratchapakdi di Hua Hin, Thailand, akhir-akhir ini menggambarkan sebagai "taman dengan tugu tujuh raja yang diabadikan oleh pemerintah militer." 2    
Daya tarik dengan tugu patung sampai saat ini, di luar pusat, dan di luar negara. Dunia fantasi yang bersejarah dari junta militer Ratchapakdi hanya perwujudan terbaru dari sejarah panjang dari pengabadian raja-raja di Thailand. Demikian juga, perubahan perkotaan Bangkok selama senja kerajaan sepenuhnya itu hanya sebuah keadaan untuk patung mania; di kota utara Chiang Mai, misalnya, tugu-tugu bersejarah menunjukkan tidak hanya saat-saat penting dalam sejarah kota dan wilayah, tetapi lebih penting lagi untuk variasi daerah pada usaha negara untuk memaksakan tema sejarah kenangan daerah kepada pihak royalis-nasionalis yang dominan. 3 Pada akhirnya, patung mania bukanlah penyakit yang diderita secara khusus oleh aktor negara monolitik; sebaliknya, itu adalah kondisi bersama dengan aktor-aktor dan kepentingan-kepentingan yang beraneka ragam. Sementara para seniman perseorangan memahat dan memberikan patung-patung mereka sendiri, para elit nasional dan daerah juga bekerja untuk membentuk kenangan populer yang diungkapkan melalui kenangan-kenangan yang tidak bergerak ini. 4
Khruba Sriwichai
Salah satu dari tugu patung mutakhir yang paling awal didirikan di Chiang Mai diperuntukkan kepada Khruba Sriwichai (1878-1938), seorang Biksu karismatik yang terkenal karena perlawanannya terhadap kebijakan Bangkok untuk wajib militer, karir ambisiusnya mengenai pemugaran kuil, dan pembangunan jalan dari pinggiran kota menuju kuil di puncak gunung Doi Suthep, yang semuanya itu membuatnya menjadi sebuah duri dalam daging bagi para pihak berwenang di Bangkok. 5 Dorongan untuk membangun tugu bagi Khruba Sriwichai, dimulai dari daerah, terutama dengan anggota dewan perwakilan rakyat untuk Chiang Mai yang pertama, Luang Sri Prakad. Catatan arsip membuktikan kebenaran gairahnya untuk tugu tersebut, dan juga usahanya untuk memajukannya dalam pemerintahan dan juga untuk memasangnya pada kaki Doi Suthep. 6 Pada pandangan pertama, mungkin tampak mengejutkan untuk menemukan sebuah tugu peringatan untuk seorang sosok yang menyusahkan bagi Bangkok didukung begitu kuat oleh pemerintah pusat. Meskipun mungkin terlalu sederhana untuk menunjukkan bahwa patung ini merupakan bagian dari langkah yang lebih luas terhadap pengakuan keberagaman provinsi, 7 tugu ini tentu telah menjadi titik fokus untuk "wacana berbasis lokal atau regional." 8 Dalam menanggapi inisiatif daerah, Bangkok berusaha untuk membaurkan peninggalan dari biksu karismatik dan bermasalah ini. Usaha ini bukanlah baru pertama kali. Sebagai contoh, pada tahun 1946, Pemerintahan Kerajaan Thailand membiayai kremasi resmi, yang sesudahnya abu-abu kremasinya dibagi menjadi enam bagian dan disebarkan di sekitar propinsi-propinsi di utara. 9 Pada saat kematiannya pada tahun 1938, ia tetap menjadi simbol identitas Thailand Utara yang terbaik yang berbeda, dan paling buruk dalam oposisi dengan Bangkok yang didominasi Siam/identitas nasional Thailand. Ketika tugu itu dikukuhkan/dipasang pada tahun 1956, hanya 18 tahun kemudian, kenangan pribadi masih menonjol terhadap penciptaan/karya dan penerimaan tugu ini. Tugu Sriwichai mungkin telah berusaha untuk "menjinakkan" kenangan biksu yang bermasalah dengan mengubah beberapa dari karismanya kepada pemerintah pusat, tetapi juga terbuka untuk wacana kenangan lokal.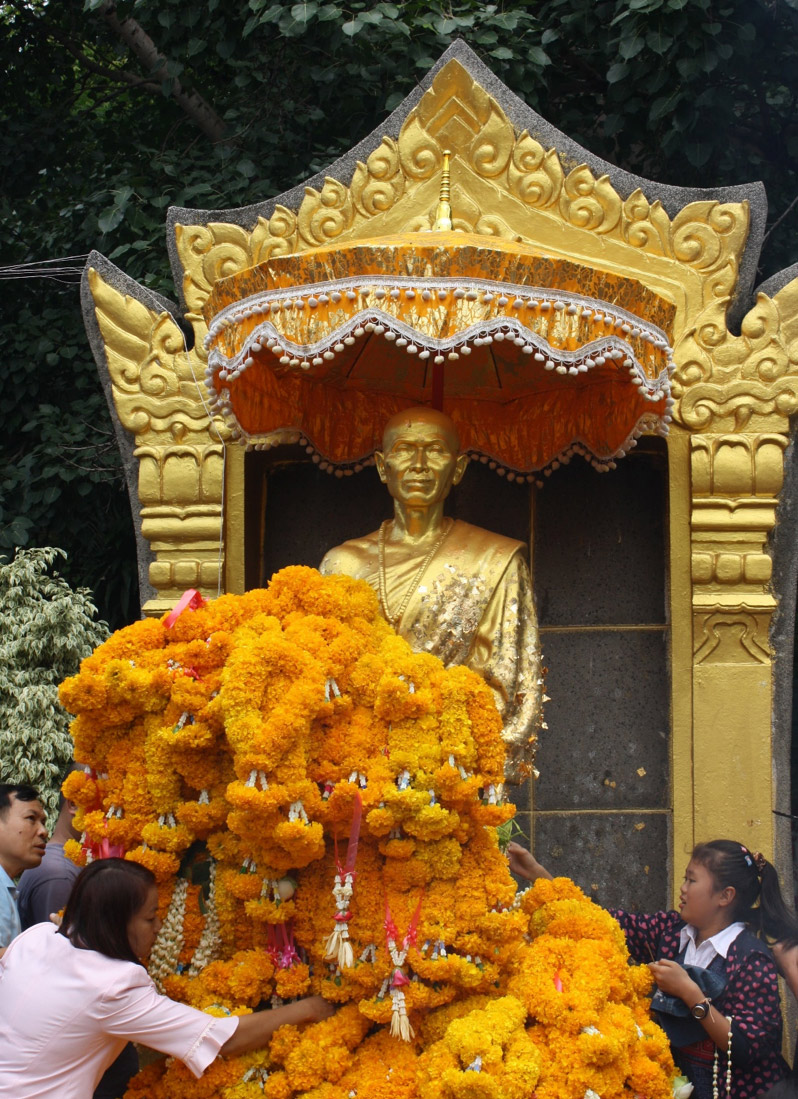 Negara Thailand membentuk kenangan ini melalui karya pengukir/pemahat patung Silpa Bhirasri. 10 Seorang warga negara Thailand naturalisasi yang berasal dari Florence, Italia, Silpa kemudian dianggap sebagai bapak kesenian mutakhir Thailand, dan juga ketua yang melakukan propaganda Perdana Menteri Phibun Songkhram. Maurizio Peleggi menulis bahwa selama era Phibun tersebut tugu patung yang "digunakan/disebarkan sebagai sarana/alat propaganda politik." 11 Silpa menghasilkan patung yang penting/terkenal di Bangkok, seperti tugu penunggang kuda Taksin, dan dia merancang salah satu dari tugu yang paling terkenal di Bangkok, Tugu Demokrasi. 12 Dia juga melatih/mengajar para pemahat patung lainnya, termasuk Khiem Yimsiri, yang membantunya dengan memahat dan mengecor patung Sriwichai, dan Khaimuk Chuto, yang menciptakan tugu paling terkenal di Chiang Mai 27 tahun kemudian, yaitu: Tugu Tiga Raja.
Tiga Raja
Tugu yang paling terkenal dan dihasilkan dengan terkenal di Chiang Mai terletak di pusat dan terdiri dari tiga tokoh kerajaan: Phya Mangrai, Phya Ngam Muang, dan Phya Ruang, lebih dikenal sebagai Raja Ramkhamhaeng, seorang raja abad ketigabelas dari Sukhothai, dan nenek moyang dari gagasan kerajaan dalam sejarah Thailand. 13 Tugu ini menceritakan kisah berdirinya kota di tahun 1296, ketika tiga raja ini bertemu untuk menentukan lokasi, tata ruang, dan ukuran dari kota baru Raja Mangrai, yang berfungsi sebagai ibukota kerajaan barunya, Lanna.
Tugu ini memiliki asal yang rumit, dan benar-benar dimulai sebagai sebuah gerakan lokal untuk mendirikan/membangun sebuah tugu untuk Raja Mangrai sendiri. 14 Pada tahun 1969, panitia lokal dibentuk untuk memudahkan upaya untuk memperingati Raja Mangrai yang dihubungi Bagian Seni (Fine Arts Department/ FAD) untuk mengatur bentuk tugu, dan menteri pendidikan, Sukit Nimmanhemin, untuk melindungi tanah dan batuan dari FAD. Pada musim panas tahun 1969, atas saran menteri, FAD mengubah gagasan dari tugu untuk Mangrai menjadi tugu untuk tiga raja. Mengapa? Karena pemerintah menyatakan satu tahun kemudian, proliferasi tugu patung memiliki potensi untuk menyebabkan 'kekacauan' —yang berarti menciptakan kenangan bersejarah yang tidak disetujui olek Bangkok. Pada Maret 1970, pemerintah mengumumkan kebijakan baru: rencana untuk tugu atau kenangan untuk tokoh-tokoh penting harus diserahkan kepada pemerintah untuk dipertimbangkan. 15 Masalah dari patung mania kedaerahan telah menjadi perhatian di tingkat tertinggi pemerintahan. Meskipun demikian, pertanyaan tentang perubahan dari satu sampai tiga raja terus mendapatkan perhatian. Pada 5 Juni, surat kabar setempat menurunkan opini "Tugu untuk Raja Mangrai: Apakah Satu atau Tiga Raja Lebih Baik?" Gubernur Chiang Mai mengeluh bahwa masuknya raja-raja yang lain akan mengurangi pentingnya Raja Mangrai, dan itu akan memerlukan penjelasan tambahan, terutama untuk generasi muda. 16 Keturunan setempat dari kerajaanChiang Mai lama cenderung lebih suka tugu untuk Raja Mangrai sendiri juga. 17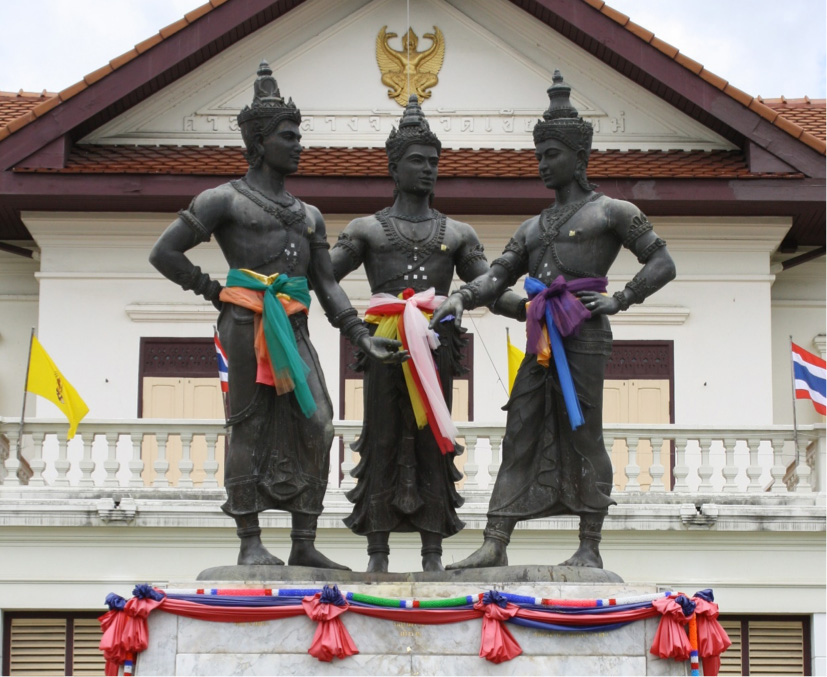 Setelah Raja Ngam Muang dan Raja Ramkhamhaeng diikutsertakan, pertanyaan akan susunan tugu menimbulkan lebih banyak perdebatan. Raja Mangrai berdiri di tengah, tetapi Raja Ramkhamhaeng yang dengan otoriter terpusat, karena salah satu kepada siapa yang lain mendengarkan. 18 Sementara beberapa warga menyatakan ketidakpuasan dengan cerita yang berpusat pada Raja Mangrai, lainnya bertanya mengapa Raja Ramkhamhaeng tidak lebih di pusat, karena dari sudut pandang nasional, dia tentu saja akan dianggap lebih penting. 19 Raja Ramkhamhaeng dan Raja Mangrai bersaing untuk penagihan tertinggi dalam berbagai cara —misalnya, ketika jimat peringatan yang dikeluarkan sehubungan dengan pembukaan tugu, nama Raja Ramkhamhaeng ini terdaftar pertama, sebelum Raja Mangrai. 20 Bentuk dari tokok-tokoh ini juga bercerita. Pemahat patung, Khaimuk Chuto, seorang kerabat dari ratu Thailand, memahami ekspresi wajah raja-raja sebagai cerminan dari kepribadian mereka: Raja Mangrai adalah indah, Raja Ramkhamhaeng adalah seorang penguasa, dan Raja Ngam Muang adalah "tampan/gagah dan genit." 21
Mungkin dari pandangan Bangkok, pemusatan rangkap terhadap Raja Mangrai dan Raja Ramkhamhaeng merupakan sebuah hasil persetujuan. Namun dari sudut pandang Chiang Mai, ini adalah penempatan sejarah nasional dalam kenangan lokal. Dengan mengembangkan tablo dari satu raja menjadi tiga, tugu ini memusatkan wacana sejarah sesuai dengan perintah dari pemerintah pusat Bangkok, membatasi sejarah Chiang Mai dengan Bangkok.
Penjelmaan Patung
Patung-patung ini tidak hanya sebagai tugu sekuler, tetapi sebagai wujud dari ketaatan beragama dan ritual juga. Memang, batas-batas antara patung sekuler dan keagamaan dikaburkan di sebagian besar Asia Tenggara. Tugu patung untuk raja-raja Bangkok atau tokok-tokoh lainnya dapat dengan mudah menjadi titik fokus dari ibadah dan ritual, dan ada banyak gambar realistis biksu yang ditempatkan di museum lokal maupun candi-candi. 22 Setelah selesai, patung dari tiga raja memasuki Chiang Mai dengan cara yang sama seperti para raja terdahulu, bergerak melalui gerbang Chang Phuak di utara kota, sebelum beralih ke ruang suci di pusat kota. Patung-patung ini bergerak seolah-olah mereka adalah raja, dan saat ini dihormati sebagai perwujudan dari kekuasaan kerajaan leluhur. Tugu-tugu ini terus ditafsirkan kembali oleh kelompok-kelompok yang bersaing membuat tuntutan pada kekuatan magis-religius dari pusat kota dalam menghadapi kekuasaan Bangkok. 23
Demikian juga, tugu Khruba Sriwichai menjelmakan baik kenangan agamis dan sekuler. Pada tahun 1972, misalnya, Wat Sri Soda, sebuah kuil yang terletak di dekat pangkalan jalan Sriwichai dan para pengikutnya membangun lereng gunung, meminta patungnya dipindah ke dalam halaman kuil. Sebenarnya, mereka menegaskan bahwa patung sebagai gambar yang agamis, dengan alasan bahwa mereka akan lebih mampu untuk melindungi patung-patung itu dan menjadikan ritual berbuat-kebaikan lebih mudah. Sebuah opini-editorial yang diterbitkan di surat kabar setempat Khon Muang menentang rencana ini dengan kukuh, dengan alasan bahwa itu hanya sebuah perampasan tunai, dan bahwa lokasi aslinya terpilih sehingga patung dapat dilihat secara luas, dan dengan demikian membantu orang-orang untuk mengingat (ramlukthung) perbuatan baik dari biksu terhormat ini. 24 Saat ini, tugu ini tetap di tempat aslinya sebagai titik fokus baik sebagai peringatan dan pemujaan.
Kesimpulan
Semua tugu mengubah kenangan bersama sampai batas tertentu. Tugu-tugu yang dipandang di atas hanya dua situs di antara sekian banyaknya dengan kenangan bersejarah sebagaimana kondisi dan wujudnya di Chiang Mai saat ini. Perdebatan seputar Tiga Raja ini, atau rencana singkat untuk memindahkan tugu Khruba Sriwichai, tidak boleh diabaikan; sebab, tetap gambar yang diperdebatkan juga dapat dipindahkan sebagai simbol identitas lokal. Siluet tiga raja dapat digunakan untuk menandai sesuatu sebagai utara, Lanna, atau Chiang Mai—jika New York memiliki Patung Liberty, maka Chiang Mai memiliki tiga raja. Sama seperti seniman memahat patung-patung ini, kekuatan sosial dan politik membentuk lanskap kenangan. Membahas "patung mania" dari pandangan daerah, bagaimanapun, mengungkapkan bagaimana batas politik tertentu pada perwujudan dari kenangan lokal dapat menghasilkan patung seperti yang di Taman Ratchapakdi: alat yang tumpul dari pendukung raja-berlebihan yang disetujui secara militer dan versi ultra- nasionalis dalam identitas dan sejarah Thailand.
Taylor M. Easum
Professor Muda bidang Sejarah, Universitas Wisconsin, Stevens Point
Issue 20, Kyoto Review of Southeast Asia, September 2016
Daftar Pustaka
Bahan yang Diterbitkan:
Agulhon, Maurice. "La « Statuomanie » et L'histoire." Ethnologie Française 8, no. 2/3 (1978): 145–72.
Bowie, Katherine A. "Of Buddhism and Militarism in Northern Thailand: Solving the Puzzle of the Saint Khruubaa Srivichai." The Journal of Asian Studies 73, no. 3 (August 2014): 711–732.
Doss, Erika. Memorial Mania: Public Feeling in America. University of Chicago Press, 2012.
Easum, Taylor M. "A Thorn in Bangkok's Side Khruba Sriwichai, Sacred Space and the Last Stand of the Pre-Modern Chiang Mai State." South East Asia Research 21, no. 2 (June 1, 2013): 211–36.
Evans, Grant. "Immobile Memories: Statues in Thailand and Laos." In Cultural Crisis and Social Memory: Modernity and Identity in Thailand and Laos, edited by Shigeharu Tanabe and Charles F Keyes, 154–82. Honolulu: University of Hawaiʻi Press, 2002.
Johnson, Andrew. "Re-Centreing the City: Spirits, Local Wisdom, and Urban Design at the Three Kings Monument of Chiang Mai." Journal of Southeast Asian Studies 42, no. 3 (2011): 511–31.
Khaimuk Chuto. Chiwit lae ngan khong Khaimuk Chūtō [The Life and Work of Khaimuk Chuto]. Bangkok: Kō̜ng Sinlapāchīp, Samnak Rātchalēkhāthikān, 1997.
Kongpob Areerat. "Thai Junta Coins New History Book to Legitimise Its Rule." Prachatai English. Accessed October 31, 2015. http://www.prachatai.com/english/node/5576.
Kwok Kian-Woon, and Roxana Waterson. "The Work of Memory and the Unfinished Past: Deepening and Widening the Study of Memory in Southeast Asia." In Contestations of Memory in Southeast Asia. Singapore: NUS Press Pte Ltd., 2012.
Lanna Thai: Anuson Phraratchaphithipoet Phraborommarachanusaowari Sam Kasat (Chiangmai 2526-27) [Lanna Thai: Memorial for the Opening of the Three Kings Monument (Chiang Mai, 1983-84)]. Chiang Mai: Khanakammakan chat tham nangsu, 1984.
Malinee Khumsupa. Anusawari Prachathippatai kap khwammai thi mong mai hen [The Democracy Monument and Its Hidden Meanings]. Krung Thēp: Wiphāsā, 2005.
Mukhom Wongthes. Intellectual Might and National Myth: A Forensic Investigation of the Ram Khamhaeng Controversy in Thai Society. Bangkok, Thailand: Matichon Public Co., 2003.
Peleggi, Maurizio. Lords of Things: The Fashioning of the Siamese Monarchy's Modern Image. Honolulu: University of Hawaiʻi Press, 2002.
Rhum, Michael R. "The Future of the Past in Northern Thailand." In Southeast Asian Tribal Groups and Ethnic Minorities: Prospects for the Eighties and Beyond, 117–24. Cambridge: Cultural Survival, Inc., 1987.
Stengs, Irene. Worshipping the Great Moderniser: King Chulalongkorn, Patron Saint of the Thai Middle Class. Seattle: University of Washington Press, 2009.
Tannenbaum, Nicola. "Monuments and Memory: Phaya Sihanatraja and the Founding of Maehongson." In Cultural Crisis and Social Memory: Modernity and Identity in Thailand and Laos, edited by Shigeharu Tanabe and Charles F. Keyes, 154–82. Honolulu: University of Hawaiʻi Press, 2002.
Terwiel, B. J. The Ram Khamhaeng inscription: the fake that did not come true. Gossenberg: Ostasien Verlag, 2010.
Thongchai Winichakul. "The Changing Landscape of the Past: New Histories in Thailand since 1973." Journal of Southeast Asian Studies 26, no. 1 (March 1995).
Viboon Leesuwan. Chiwit ae Ngan Khong Achan Sin Phirasi [The life and works of Silpa Bhirasri]. Bangkok: SITCA Investment & Securities Public Co., 1996.
Wong, Ka F. Visions of a Nation: Public Monuments in Twentieth-Century Thailand. Studies in Contemporary Thailand 15. Bangkok: White Lotus, 2006.
Surat Kabar:
Khon Muang Newspaper, (1969-1972).
Bahan-bahan Arsip:
(4) ศธ 2.2.3.1/11. Building a monument to Phra Sriwichai, to be installed near the road up to Doi Suthep, Chiang Mai province (1956-63), National Archives of Thailand, Bangkok, Records of the Ministry of Education.